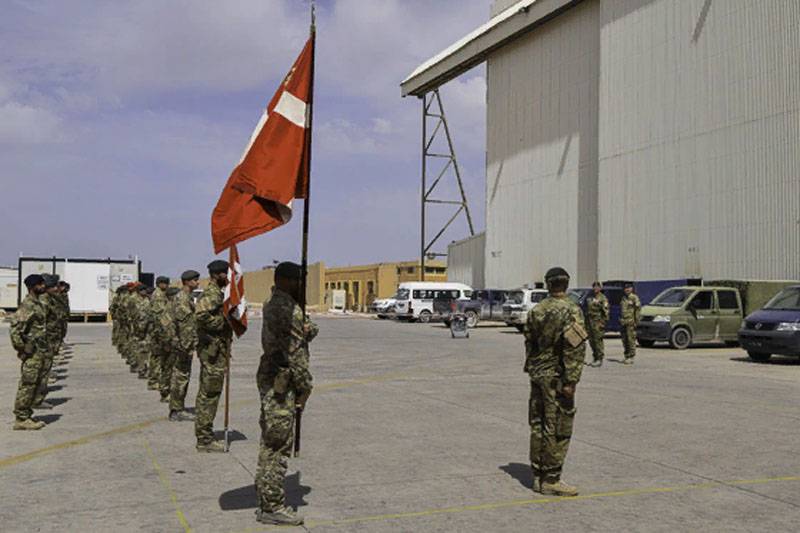 The Danish Ministry of Defense has announced that it is withdrawing the Danish military from Ain Assad's Iraqi base in Anbar province. The base began to be often mentioned in connection with the Iranian operation "Martyr Suleymani," which was carried out in response to the elimination by the Americans of the General IRGC. Iran conducted its operation, which was related to the launch of a missile attack on the mentioned military base, on January 8 of this year.
Recall that then the infrastructure of the Ain Assad base was significantly affected. Initially, the US military command stated that none of the troops were injured, and then it suddenly became clear that dozens of soldiers were diagnosed with shell shock and damage.
The command of the Danish military contingent reports that the Danish state flag was lowered at the Ain Assad base in Iraq, which in turn "marked the end of the Danish military presence at this base, which began in 2014."
At the same time, the Danish Ministry of Defense noted that they were preparing to take command of the joint NATO military contingent in Iraq. However, the Danish military will no longer conduct combat anti-terrorist operations, but will focus, as stated, on the briefing of Iraqi military personnel. The military remaining in Iraq will be at NATO headquarters in Baghdad.
It is added that consideration of the further military presence of Danish troops in Iraq is being considered by the country's parliament. It is noted that parliamentarians must confirm their readiness to take over the Danish military command of the NATO contingent in Iraqi territory.
The comments of ordinary Danes in the Jyllands-Posten edition are noteworthy:
Kai Hansen:
It would be interesting if the Minister of Defense told us why young Danish men (provided that you do not send female soldiers to Iraq) should risk their lives in Iraq?

Gitte Christiansen:
I do not understand why Denmark and the Danes intervene in the wars in the Middle East. We have a lot of healthy young people from Iraq in Denmark, why don't they go home to fight for their country?
Geert Sauer:
Let the EU supply advisers who know the language there. Let it be the Iraqis themselves, who were taught democracy and business here
Why did the Danish contingent decide to withdraw from Ain Assad base only now - almost six months after the Iranian missile attack? According to some reports, Danish troops took part in restoring the infrastructure of this NATO military facility.