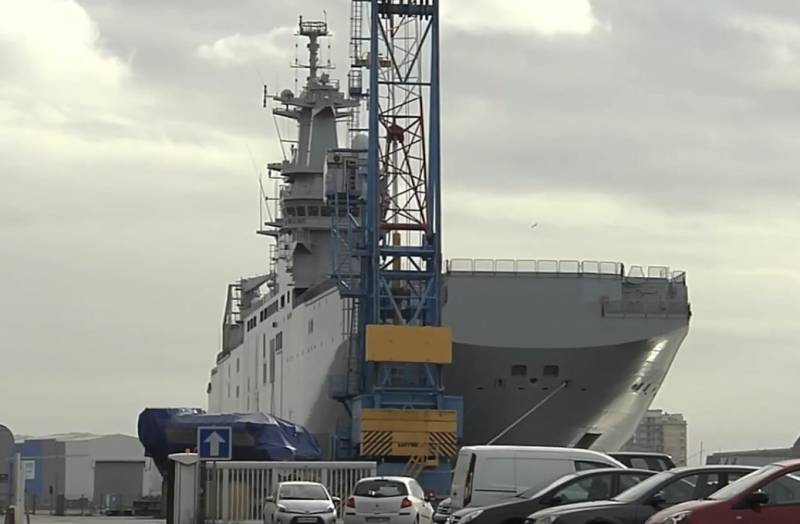 As you know, the RF Ministry of Defense ordered the construction of two universal landing ships (UDC) in Kerch at the Zaliv shipyard. Their appearance is suspiciously reminiscent of the French Mistral helicopter carriers.
About this in an article for the western edition of Forbes writes an American expert in the field of armaments David Ex.
The author assumes that the new Russian UDC is copied from the French Mistral, which our country planned to acquire six years ago, but due to the sanctions imposed, the contract was terminated and the deal did not take place.
The contract between the Russian Ministry of Defense and the Kerch Shipyard was signed on May 22. Under the agreement, the enterprise is to build two universal landing ships of project 23900.
The displacement of the new UDC is 25 thousand tons. It is capable of carrying on board up to 20 helicopters, several landing craft and 900 marines.
David Ax refers to the Russian author of Livejournal, who has the nickname bmpd, who also draws attention to the significant similarities between the new Russian ship and the French landing helicopter carrier.
In addition, as an argument in favor of his version, Ex cites the conclusion of the American Center for Naval Analysis, made last year regarding the alleged plans of the Russian military leadership to create the UDC:
If such ships are to be built, then their creation will undoubtedly come in handy for the short experience that the Russians gained from the French under the contract for the supply of Mistral before it was terminated.