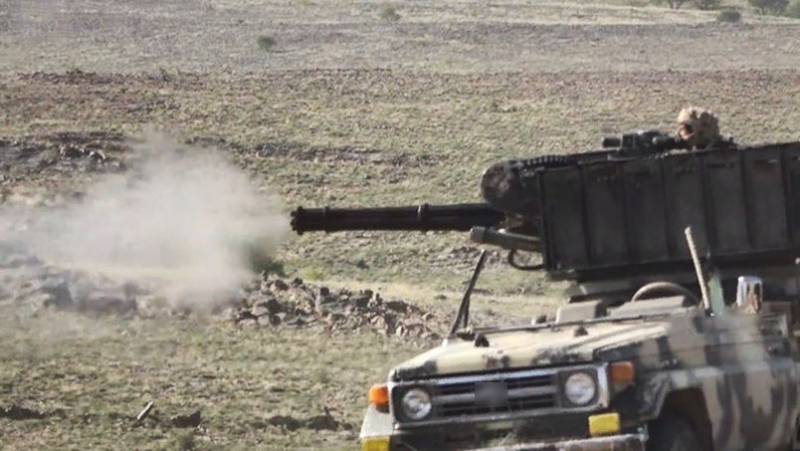 Reports are coming from Yemen that the units of the Ansar Allah's armed wing, known as the Hussites, have created new assault units. The main type of equipment - pickups with very original weapons.
We are talking about such weapons as six-barreled guns M61 Vulcan rotating type. Initially, these were exclusively aviation-based guns. In particular, their use is correlated with American-made fighters, including F-16 fighters.
Guns "Volcano" in connection with the presence of 6 barrels have a high rate of fire - up to 6,6 thousand rounds per minute. The gun has a hydraulic drive. The ammunition that is used is 20 mm caliber. Last year, 60 years have passed since the M61 Vulcan was put into service with the US Army. Since then, the gun has managed to prove itself in a variety of conflicts, including wars in Vietnam and the Persian Gulf.
Now the "Volcanoes" decided to use as the basis for the weapons of the assault troops and the Hussites.
To use the M61 Vulcan, the Hussites "farm" Japanese SUVs to the maximum extent possible, removing what is called excess. This can be seen in the presented frame.
It has been reported that for several days the Hussite assault groups tried to break through the defenses of the so-called Saudi coalition in the Khodeida region, but so far the representatives of this coalition have been able to restrain the "raids" of the Hussites. The difficulty for the Saudi military and those supported by Yemeni forces is that the Hussites do not advance on a united front, but conduct quick attacks with the help of several mobile groups. At any opportunity, these groups are dispersed on the ground, which makes it impossible to deliver a "decisive" blow to them.