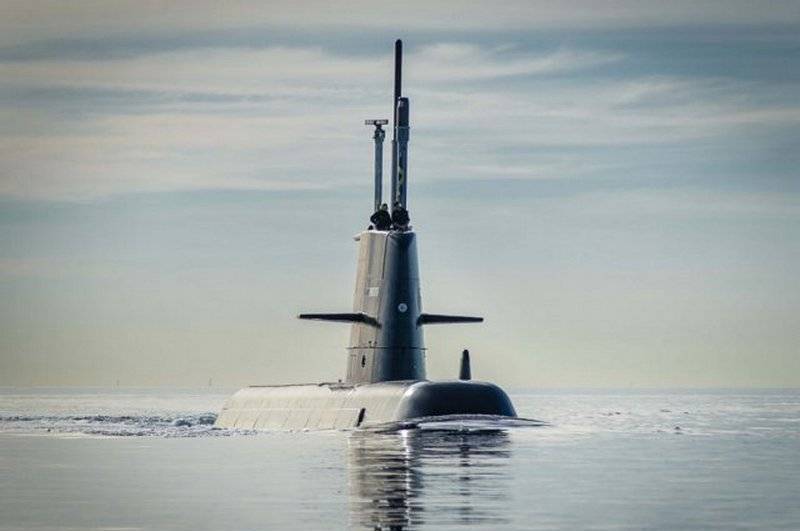 The Royal Royal Navy of Sweden received a leading submarine of the Gotland class, which was modernized. According to Naval News, the hull has been increased in the submarine and the third-generation VNEU has been installed.
The modernized at the shipyard Saab Kockums Swedish submarine "Gotland" has finally returned to the composition
fleet
. As stated by representatives of the Navy, now Gotland is the most modern, inconspicuous and effective submarine in the Baltic and North Seas.
Reportedly, during the modernization, the submarine lengthened the hull by cutting a two-meter section into it. In addition, the Gotland is equipped with an air-independent installation of the third generation, created on the basis of the Stirling engine. The submarine received a new Safran periscope, Kongsberg SA9510S sonar system, Exelis ES-3701 electronic warfare system, promising CIUS and much more. Some of the new products installed on the submarine are intended for submarines of the new generation of the A26 project.
The Gotland diesel-electric submarine is the lead in a series of three submarines. It was launched on February 2, 1995 and put into operation on September 2, 1996. Submarines of this type have an underwater displacement of about 1600 tons with a length of 60,4 meters (after modernization, the length has changed to 62,7 meters, displacement is not indicated) and a width of 6,2 meters. The working depth of immersion is 320 meters. Speed ​​under water - 20 knots. The crew is 27 people. Armament: Torpedo mine - 4 bow 533 mm TA, 12 torpedoes; 2 bow 400 mm TA, 6 torpedoes; 12 min (instead of torpedoes). Submarines of this type were initially equipped with a Stirling engine, which allows you to extend the stay of the submarine under water for up to two weeks instead of the usual several days.
With the installation of a third-generation non-volatile power plant, the submarine is now able to be in the underwater position for more than 20 days instead of the previous 14.