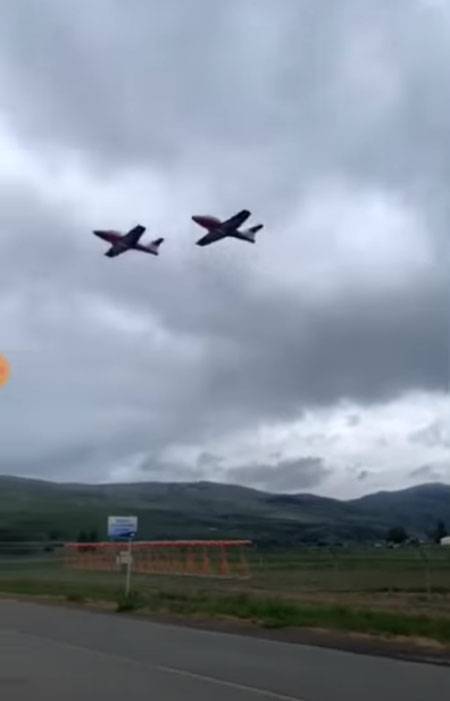 Messages about the crash of one of the flight crews in Canada came. The incident occurred about 400 km north of Vancouver - in the province of British Columbia. We are talking about the Snowbirds plane, which is part of the Canadian Air Force.
Eyewitnesses filmed the moment the plane crashed. He (the plane) appears a few hundred meters from people filming a video.
The aircraft flies first in a twin version, then it appeared in a single version. At one point, his speed drops, after which he falls into a tailspin. The pilot carries out bailouts. The car crashes and explodes.
According to some reports, the plane belonged to the fleet of the Canadair Tutor aerobatic team. He performed a demonstration flight, which included showing aerobatics.
It is reported that the wreckage of aircraft are found within a radius of tens of meters in the vicinity of the Kamloops airfield.
It is said that the plane crashed in one of the residential quarters, which led to a fire that engulfed the local resident's house. Local media report the death of one person. This is Captain Jennifer Casey.
The reports noted that the aerobatic team was lifted to "support the local population during the pandemic."
Local resident:
I live literally a hundred meters from the crash site. I heard a terrible roar. Then she ran out into the street. Everything burned. The wreckage of the aircraft could be seen on the ground and roofs of houses.
The crash of a Canadair CT-114 Tutor jet of the Canadian Air Force Snowbirds aerobatic team. The incident occurred in Kamloops during a demonstration flight. pic.twitter.com/pgCD0Y8k1i

- Almost SovFed (@fedsovetov) May 2, 2017