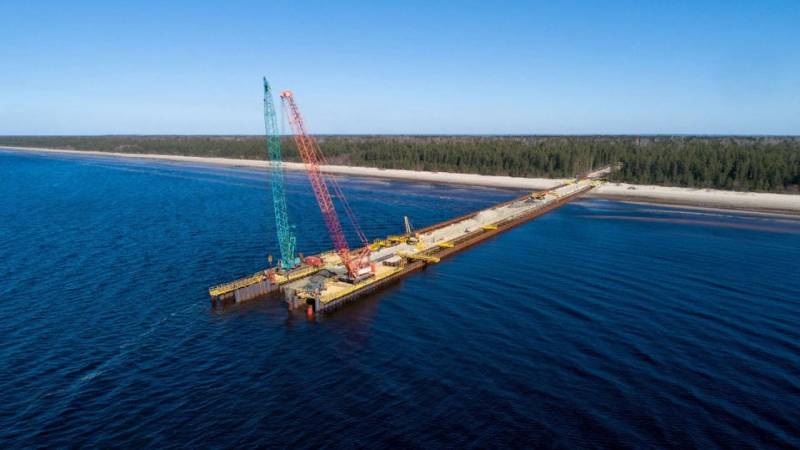 The decision of the German authorities on the non-withdrawal of the Nord Stream-2 project from the requirements of the so-called "gas directive" of the EU is commented not only in Russia, but also abroad. Perhaps the greatest euphoria about this reigns in the circles of the Ukrainian authorities. So, the chairman of the Ukrainian government, Denis Shmygal, even congratulated Germany on such a decision.
According to Shmygal, the decision made by Berlin "shows allegiance to the uniform rules of the European Union".
At the same time, in Germany itself, cries of irony are heard about the statement of the Ukrainian prime minister. It is noted that the government of a non-EU country "seems to be more aware of the existence of common EU rules than in the EU itself." It is added that, to put it mildly, it's strange to talk about common EU rules at a time when even "Schengen" does not work.
Recall that the EU's "gas directive" prescribes to reserve 50% of gas pipeline capacities to ensure "competitiveness". European experts believe that, by and large, this rule is not fully operational, since "in case of urgent need" one company may be given more than 50% of the pipeline's volume. It is noted that the economic crisis could be an important reason for the pipes of the same SP-2 to not be half empty (after the construction of the gas pipeline).
S&P Global, meanwhile, reminds that Nord Stream-2 has a month to appeal.
Meanwhile, Poland has once again stated that Nord Stream-2 "cannot have any privileges in the European energy market." PGNiG claims that SP-2 "will pose a threat to the security of supplies and competition in the European gas market."
Of course, they welcomed the decision of the FRG authorities in the USA. But what about the very directive regarding American energy suppliers? If Europe cares so much about competition, then it's worth extending its gas directive to American marine gas carriers transporting LNG to Europe. In turn, this means that tanker capacities should be filled with 50% of the gas of "alternative suppliers" - for example, LNG from Russia ... Or are they "undemocratic" to extend their EU directives to US gas carriers?