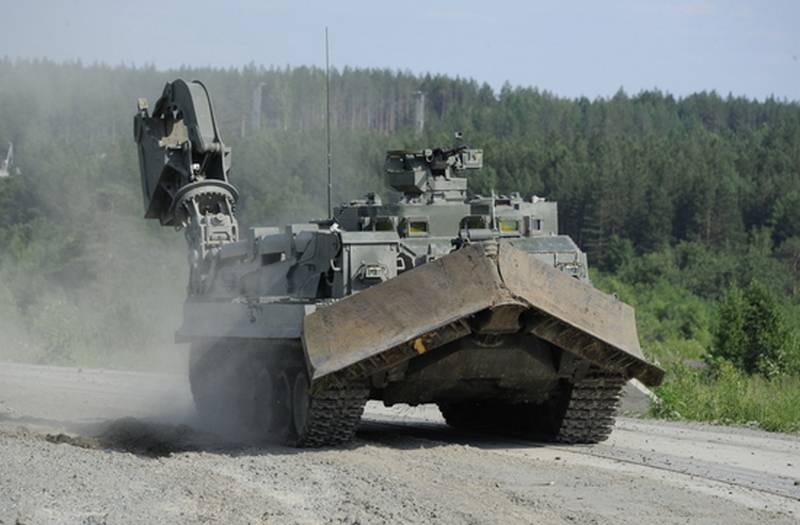 The tests of the universal armored engineering vehicle (UBIM), created in the interests of the engineering forces of the Russian army, were successfully completed, the equipment confirmed the declared characteristics. It is reported by the Ministry of Defense.
As stated in the military department, the tests of a promising engineering machine have been completed, and based on their results, a decision will be made on putting the UBIM into service with engineering units of the Russian army. The machine was developed by order of the engineering forces by the Ural Design Bureau of Transport Engineering (UKBTM, part of UVZ) as part of the Robot-3 development center.
As previously reported, the project to create a universal engineering machine that can replace several samples of engineering equipment at once appeared several years ago. In the framework of the Army-2017 forum, Uralvagonzavod for the first time showed a model of a promising engineering machine with the working designation "Object 153" or the UBIM. In 2018, a working model of an engineering machine appeared.
KILL created on the chassis
tank
T-90 is designed to ensure the advancement of troops and the implementation of engineering work in the conditions of enemy fire, including in contaminated areas. The machine is able to pave the way with the removal of debris using a blade or bucket, and there is the possibility of grinding large debris and obstacles using a hydraulic hammer. If necessary, the UBIM is able to pull out the stuck equipment and evacuate it.
The machine is equipped with a remotely controlled combat module with a 12,7 mm machine gun with 1200 rounds of ammunition.
The crew - 2 people, there is a place to accommodate three more people, mainly sappers, who are not included in the crew, but can assist in mine clearance. An engine with a capacity of 1130 hp was installed, the maximum speed was 60 km / h. Cruising range - 500 km, gross weight - 55 tons.