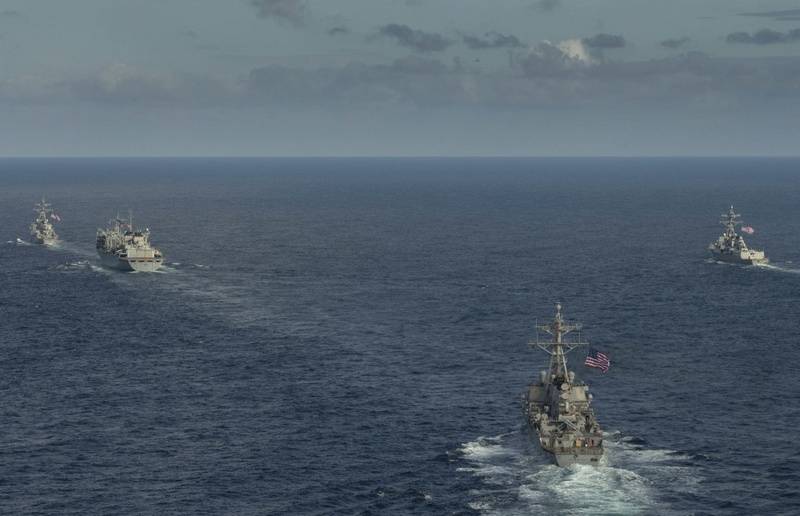 6th shipborne strike group
fleet
The United States, located in the Arctic, completed its tasks and left the water area located beyond the Arctic Circle. This was reported by the headquarters of the 6th operational fleet of the United States.
According to the report, the group included three US URO destroyers: USS Roosevelt, USS Porter, USS Donald Cook, British destroyer HSE Kent, USNS Supply supply ship and nuclear submarine from the US Navy, whose name is not given. In addition, for the constant patrol in the area of ​​the group, the US Navy P-8A and RC-135 were constantly flying into the air.
The group participated in NATO exercises held in the Arctic for about 2 weeks, while from May 4 to 8, the strike group ships were in the Barents Sea off the coast of Norway's northernmost region - Finnmark, which borders the Murmansk region, where the Northern base is located fleet. On May 8, destroyers left the Barents Sea, but continued to be in the Arctic, leaving it only on May 14.
The Donald Cook left with the other ships. Earlier in the US Navy, it was stated that the squadron "did not notice the observations from the ships of the Russian Navy." Experts noted that these are the problems of the US-British squadron.
As noted, this was the first call of a detachment of surface combat ships of the US Navy in the Barents Sea since the mid-1980s. This call did not
news
for the Northern Fleet of the Russian Federation, the forces and means of which kept track of NATO ships during the exercises, up to the departure of ships from the Arctic region.