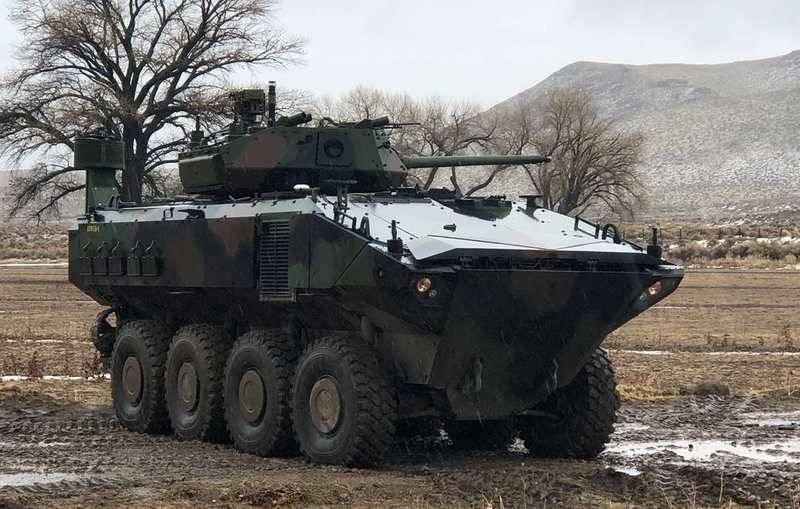 Image of an ACV wheeled armored personnel carrier for the U.S. KMP in the ACV-30 variant with the Kongsberg BMT-30 BM
Promising wheeled armored personnel carriers ACV (Amphibious Combat Vehicle) for the U.S. Marine Corps in the ACV-30 8X8 variant will receive a remotely controlled combat module MST-30 with a 30-mm automatic gun manufactured by the Norwegian group Kongsberg. This was said in a statement.
The Norwegian Kongsberg group received a subcontract from BAE Systems Corporation for the supply of up to 150 remotely controlled combat modules MST-30 with a 30-mm automatic gun to equip the promising ACV-30 armored personnel carrier for the U.S. KMP. The first ACV-30 prototype with the MCT-30 module is due in early 2021.
This combat module was selected by the United States Marine Corps for its armored personnel carriers in April this year. It should be noted that the Kongsberg BMT-30 BM is well known in the US Army, they were chosen in 2017 to equip 81 Stryker armored vehicles (8x8) in the M1296 Stryker ICV Dragoon (ICVD) variant as part of the 2nd cavalry regiment stationed in Europe However, in the future the development project was not received.
Reportedly, the Kongsberg MST-30 combat module is equipped with a 30-mm Northrop Grumman XM813 Bushmaster Mk 44 cannon and a 7,62-mm machine gun paired with it. The gun has dual power and ammunition of 150 rounds placed in the module, since the BM has no turret compartment. As ammunition, the gun can use 30-mm shells with remote detonation.