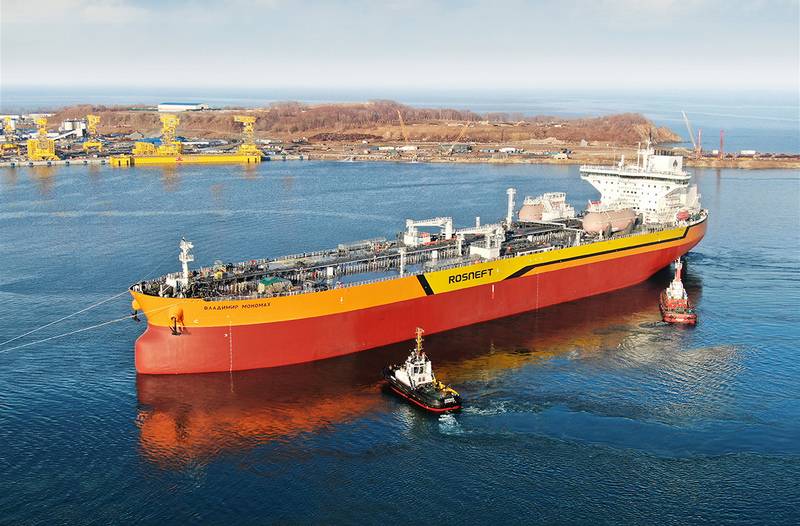 The first Russian tanker of the Aframax type, Vladimir Monomakh, was launched. The ceremony was held at Zvezda Shipbuilding Complex LLC in the Big Stone of Primorsky Territory, Zvezda press service reported.
The report said that a new generation tanker designed to meet high environmental safety standards was launched. The main and auxiliary power plants can operate on both traditional and environmentally friendly fuels - liquefied natural gas. The length of the vessel is 250 meters, width 44 meters, deadweight 114 thousand tons, speed 14,6 knots, ice class ICE-1A. The main purpose is oil transportation.
It is specified that the construction of 12 tankers of this type is in the Zvezda's portfolio of orders. At present (taking into account the launched ones), 4 tankers are on the outfit of the Zvezda building, in February a steel cutting ceremony was held for the fifth. All tankers are designed for Rosneft.
Let us clarify that at the present time the Zvezda shipbuilding complex has not yet been completed, construction is being carried out in two stages. To date, the facilities of the first extended lineup have been commissioned: a hull production unit, paint booths, an open heavy outfit with a fleet of unique cranes and an advanced ship-transport system, a transport and transfer dock.
With the commissioning of the second stage, Zvezda will be able to build ships and marine equipment without any restrictions. The second stage includes: a dry dock and additional production workshops of a full cycle for the construction of large vessels and marine equipment. The shipyard is fully ready for 2024.
According to the bmpd blog, the actual assembly of the tanker hull took place at Zvezda. At the same time, the ship's cargo sections were manufactured at the enterprise, and the fore and aft sections of the hull were manufactured by the South Korean company Hyundai Samho Heavy Industries in Samho-Yup (Yongam) and delivered to Big Stone by sea.
Full localization of production at Zvezda will be introduced gradually and will take at least 4 years.