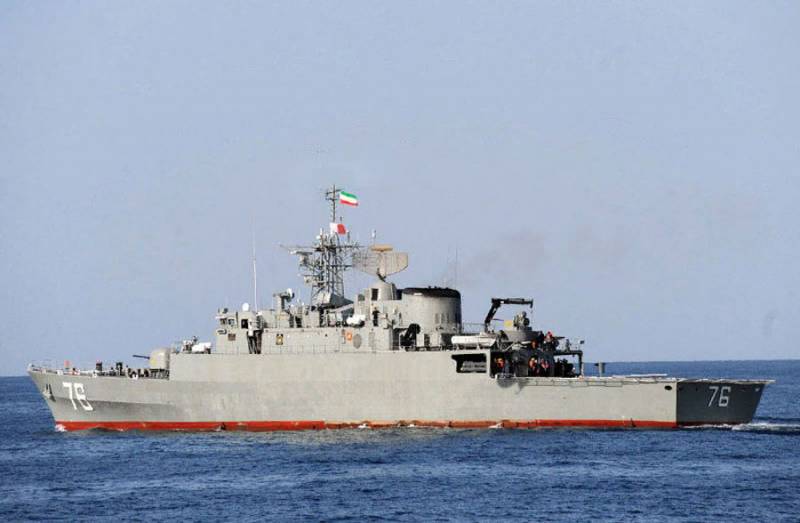 The Iranian command confirmed the fact that the missile launched during the exercises from the frigate "Jamaran" hit the auxiliary vessel of the Iranian Navy.
If initially it was reported that on board the ship hit by a rocket Konarak two people were killed, then over time, the Iranian Navy reported the death of at least 19 Iranian sailors. The ship, as previously reported by the Military Review, has sunk.
In connection with the incident in the waters of the Gulf of Oman, where a group of Iranian naval ships conducted exercises, various versions of what happened are expressed.
Especially for Military Review, the incident was commented on by Captain 1 rank, member of the expert council of the All-Russian organization Russian Officers, Vasily Dandykin.
Military expert:
Of course, here it is necessary to consider the issue of training crews and organizing military exercises. But I want to say that this is far from an isolated case. Unfortunately, the same thing happened with us - in the Pacific
navy
on the Black Sea.
Vasily Dandykin notes that there is some degree of probability that the enemy's electronic warfare systems (EW) could work.
Captain 1st rank:
But here it is preparation, periodicity and intensity of military exercises that comes to the fore. This is preparation from the ship to the group of ships, when everything is trained and brought almost to automatism. Otherwise, disruptions happen. Now, of course, there will be a debriefing in the Iranian Navy.
Vasily Dandykin notes that the missiles hit their own ship (for the Iranian Navy), but a different character could have happened:
Can you imagine if the rocket deviated and fell into another ship. She could get into the US ship, watching the maneuvers, or some other. There is not much room for training with intensive firing, and therefore anything could happen, since there are many ships there.
According to the expert, in the first place in this situation, he personally identifies a failure in the management of exercises in the crew information system.
At the same time, the technical factor can play an important role - the state of the missiles, which carried out live firing.