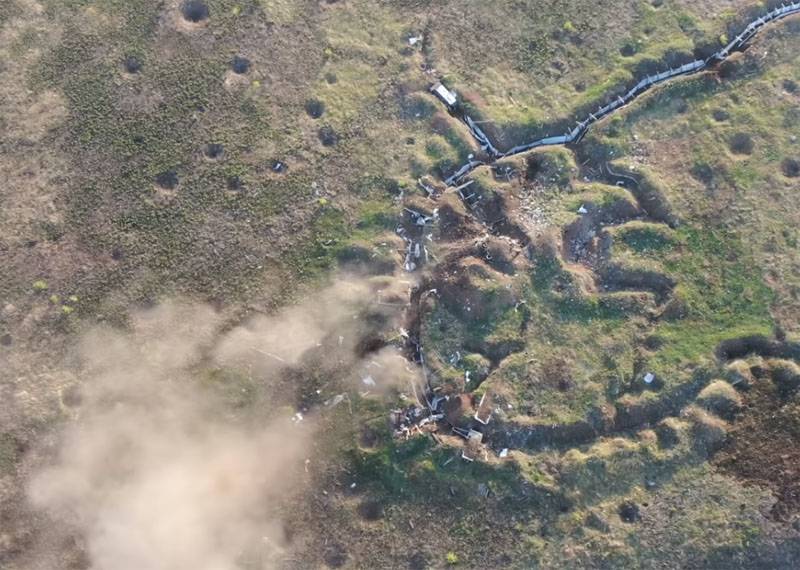 The Ukrainian side once again publishes direct evidence of a ceasefire violation in the Donbass. We are talking about the video material that was published by the K2 group, which belongs to the 54th Armed Forces brigade.
The video demonstrates the shooting, which is carried out from a Ukrainian drone hovering over one of the positions of the DPR People's Police.
Parsing video
If you disassemble the presented video, it opens up a lot of important details. For example, the DPR NM dugout is shown, in the trenches and passages of which, as is clearly seen in the frames, there is no one. This is important, since the Ukrainian side claims to have delivered a "retaliatory strike" after "Ukrainian territories were fired from there". What armament could NM DPR use to fire at Ukrainian territories? .. There are definitely no heavy weapons at the positions of the Republican People's Police.
A mortar fire is being adjusted from the Ukrainian drone.
A minute after the start of the shelling, in frames you can see a man who runs along the trench, and then ... disappears. It "disappears" thanks to the gluing of fragments. A frank video editing appears.
In total, over a dozen shots were fired at the position. At the same time, numerous funnels from previous shelling by the Ukrainian side are visible. What's called a shot.
The new video striking the territory of the DPR, as well as traces of old craters are eloquent evidence that the Ukrainian side is not going to comply with the ceasefire in particular, or the Minsk agreements in general.
It is noteworthy that in the 54th Armed Forces of Ukraine the Armed Forces of Ukraine declare "liquidation of three militants" (the "Ukrainian militants" continue to be called representatives of the Liberal Democratic Party of Lithuania). On the basis of which the conclusions were drawn that the Donetsk people's militia suffered precisely such losses (if any) at the positions, it is not clear.
Another important detail. The shelling continues for several minutes. This suggests that the DPR NM did not respond to the shelling from this or any other position, observing the ceasefire. How appropriate such compliance is in this situation is an open question. However, the video presented by the Armed Forces of Ukraine should be additional evidence of violation of the agreements reached by the Ukrainian side. I would like this video to be taken apart by the OSCE SMM as well.
In Donetsk, regular shelling of the republic's territory is associated with the fact that these days the LPR and DPR are celebrating their 6th birthday. May 11, 2014 in the republics held referendums on self-determination. Acts on state independence of the young republics were supported by the majority of citizens who came to polling stations.