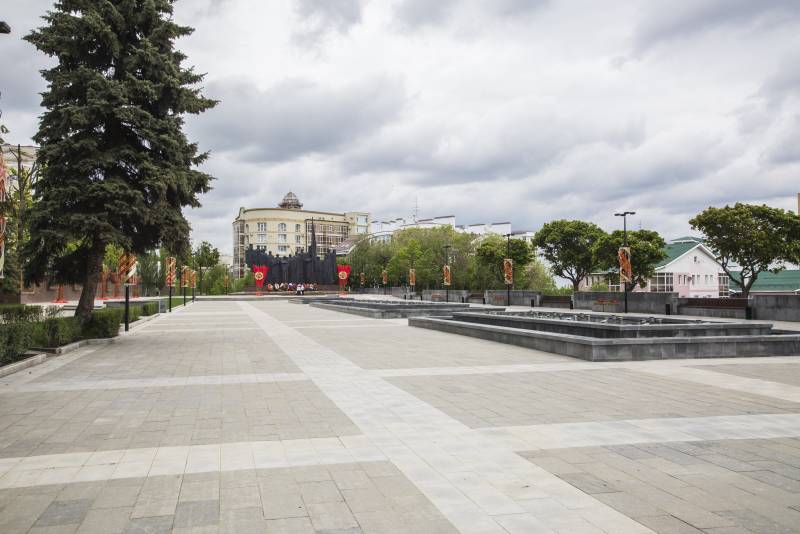 Well, I whispered the anniversary Victory Day, and now, in the wake of what I saw, I want to say a few words.
In the first lines, I really want to express my gratitude to the coronavirus and the regime, do not understand what. The amount of insanity on the streets of my city was minimal. In general, it is amazing how it happened until I realized it myself, but the city authorities managed not to vulgarize anything and not screw up anywhere! This is just some kind of miracle!
Moreover, there were positive aspects. With your permission, I'll start with them, because it's really very nice.
They opened Victory Square after the overhaul.
Repair there really was necessary, the repair turned out on time and on time. It's even strange somehow, because the second object, the Orlyonok park, where many objects of cultural and historical heritage are concentrated (one mass grave of the generals is worth something), was not managed to be repaired precisely because of restrictions.
It's sad of course.
But whoever wanted to, he came to the square, came himself (I'm no exception, fortunately the police at the entrance of the bay, but didn't open), laid flowers, stood, paused. With flowers in the city of tin, 95% of the stalls under sanctions help out cottages.
By the way, I watched that people willingly shared flowers.
It turned out peculiar. It seems like a normal day, but whoever has fire in his soul will reach the fire and no obstacles will hinder him in this.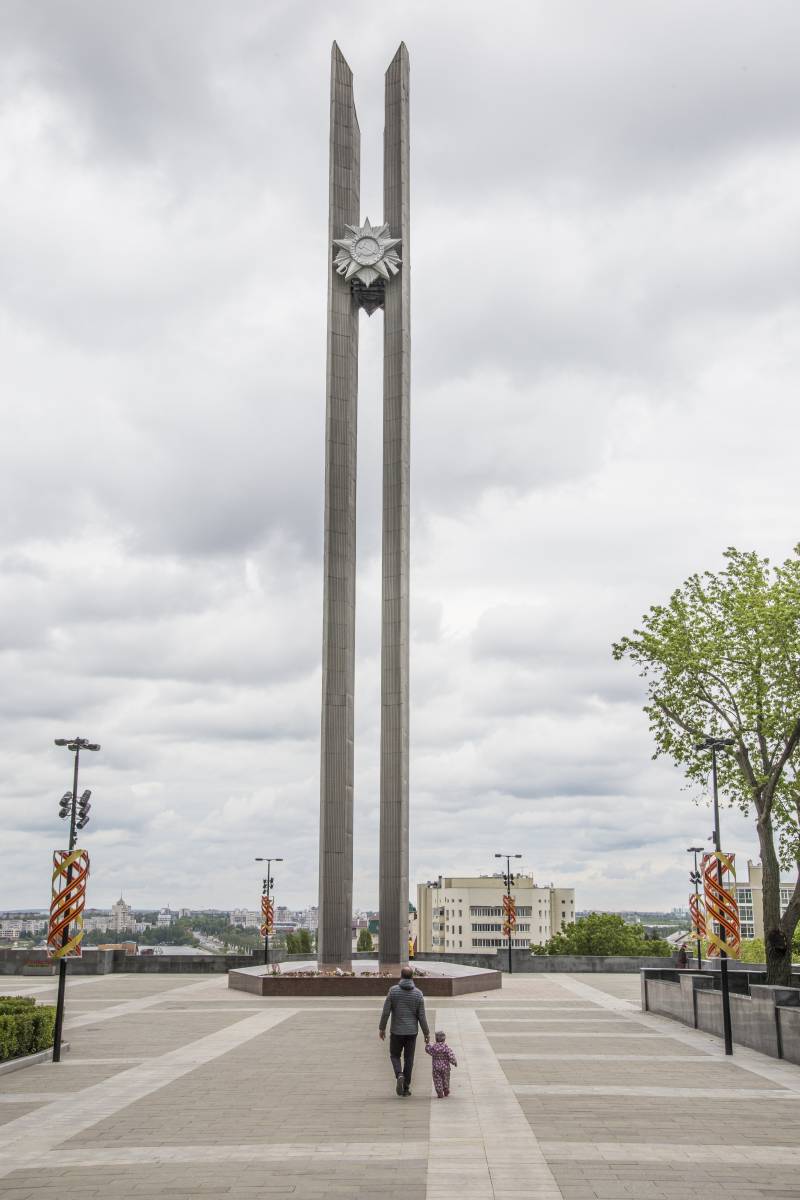 The area turned out, fountains were added, only the St. George glasses somehow look so strange ...
From insanity we got an "air parade", which no one saw, but which could be seen in
the news
(10 seconds) and "salute", which no one saw or heard either, because they were shooting at the Pogonov training ground, and this is outside the city.
For, as the authorities said, there is nothing. Salute is a tribute to the memory, they plowed in the middle of the wasteland - and enough.
Thank God, even though the clouds did not disperse. Although somewhere and overclocking, they worked pretty well. There were no parades, but ...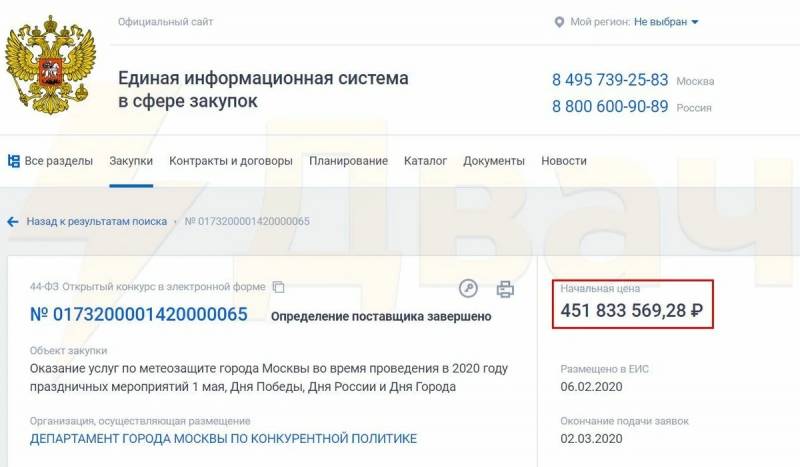 In general, of course, all of these, with permission, "events", cause a rash.
No, I understand that everything was laid down in the budget, especially in the budget of the Ministry of Defense (I'm talking about the "air parade"), the money is already that ...
Now the Internet is overflowed with criticism of the victory in the country for several years. And I completely agree with the critics, because honoring the memory of our ancestors who defeated fascism is one thing, and what is happening in our country that year in a row is another.
We are developing budgets. And it is much more shameful than destroyed monuments in Ukraine, Poland, Czech Republic. That is our pain, and victory is our shame.
But the organizers do not need to understand this, they are happy with everything, and it was planned. "Tricky plan ..." I don't know who to debase our very
stories
.
And claims to the "girls designers" are less and less. Just because they, generations of 40, deeply and decisively do not care much about everything that happened 75 years ago. And for this, the authorities are doing everything possible.
No, really, lurid holidays, mummers, real hysteria in a couple of days, caps competition of mayors and governors, who will stand out better ...
These ribbons, again ...
No, who likes - not a question. I myself never took it, never wore it, I didn't tie it on a car or bag and am happy with everything. To those who stripped the ribbons, he was treated as sick, since this is a personal matter for everyone. I have my own symbol in my soul, I simply do not need imposed ones.
But somehow it looks ugly: these ribbons are HANDS out, and masks are SELLED. What, excuse me, is more important? And more important, of course, to master the budget.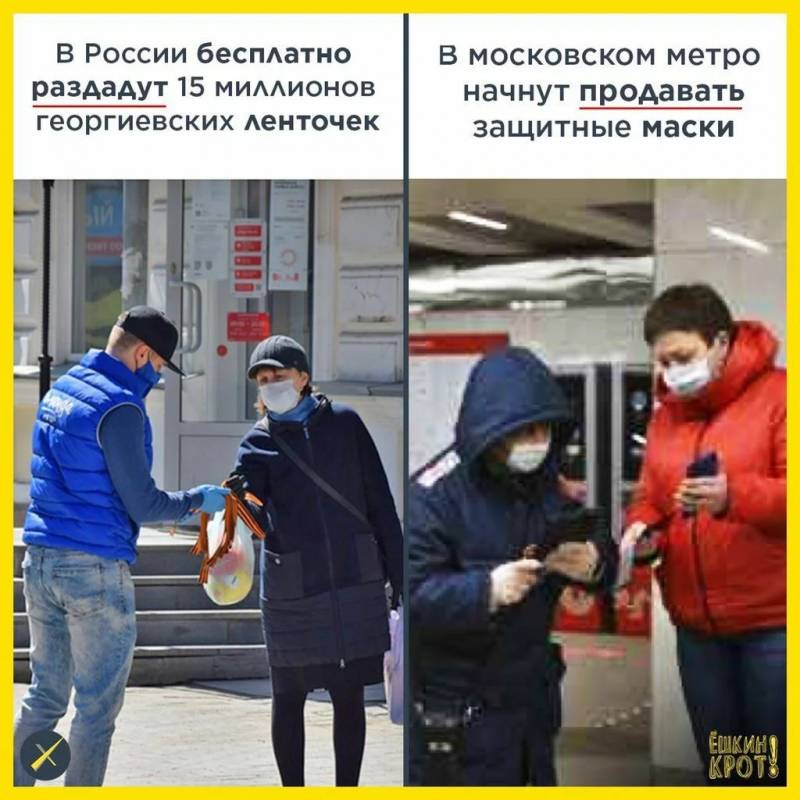 Incidentally, this also applies to the parade. I don't understand, to be honest, to whom did he warm his soul, and if he could only be seen on the TV box. With the same success, one could twist the record of last year's parade. No, we'll spend the aircraft resource on garbage, we'll burn the fuel, because it's paid.
The utter unprincipledness and spit of the authorities from the very top just touches. And it cannot but give rise to the same disdainful attitude in the lower classes. And the bottoms come off in full. But what if they do this at the top, why is everyone else worse?
Wild and vulgar competition disregarding Victory.
City of Noginsk, Moscow Region.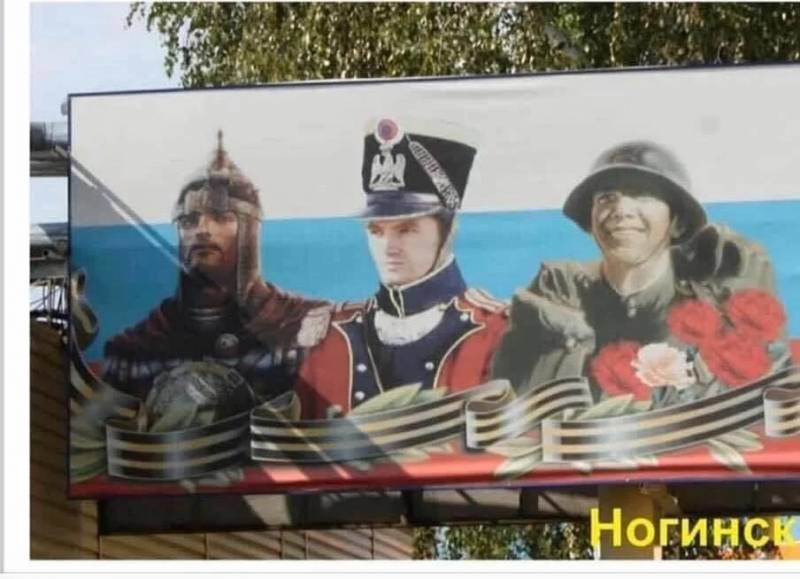 Well, a beautiful three, right? Okay, the Russian hussar was replaced by a Frenchman, and there, after a couple of years, you look, and the soldier will look different. First time, perhaps?
Mytishchi. There, near Moscow. It is clear that to distinguish 9 from 6 - it is necessary to have a higher education and to know the Russian language. But was it really impossible for those Gaster who hung all this, to put at least one Russian watchman?
Apparently not.
Chelyabinsk. For the sake of diversity, in the Urals they are also weird. I don't know where they dug up this loner, but in this ... (forgive me, God!) Man-made (do not do this with your hands) object THREE errors !!!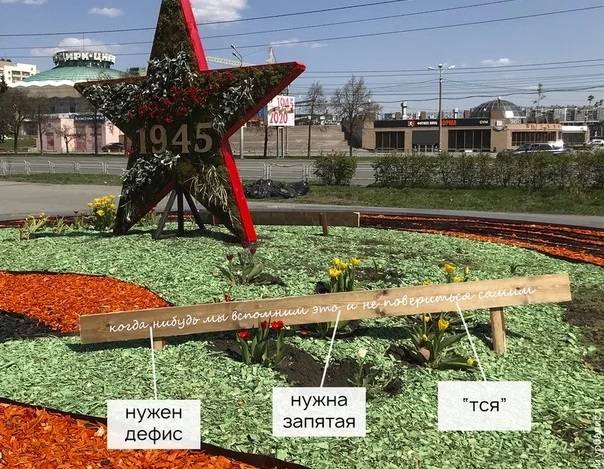 Congratulations to veterans. Necessary. But does it need to be done like this? Distance? Do not make me laugh. It is quite possible to climb to everyone not with the help of a lift, but simply. Humanly. This clowning looks exactly like that. Stupid and ugly. Novosibirsk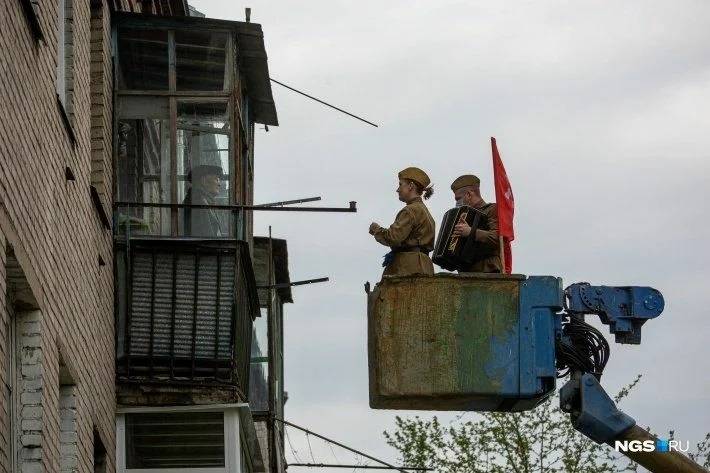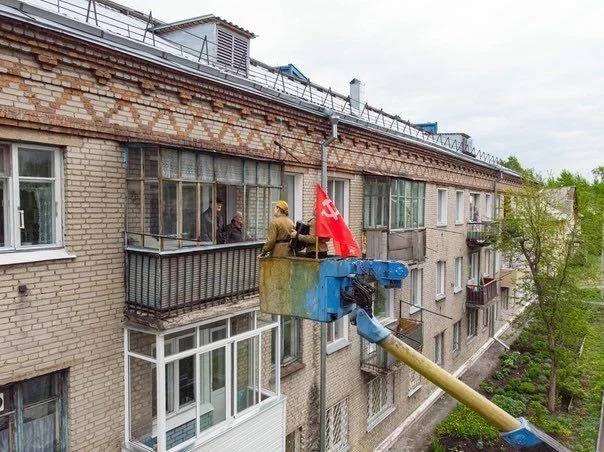 Well, of course, how not to make money on Victory? This is such a PR move, well, just swing!
This was lying around the entrances throughout the Soviet district of the city of Voronezh. I didn't recognize the whole city, but we were lying around. The order was crumpled, thrown into the trash, trampled underfoot. Great attitude to memory. Spelled out in the Constitution.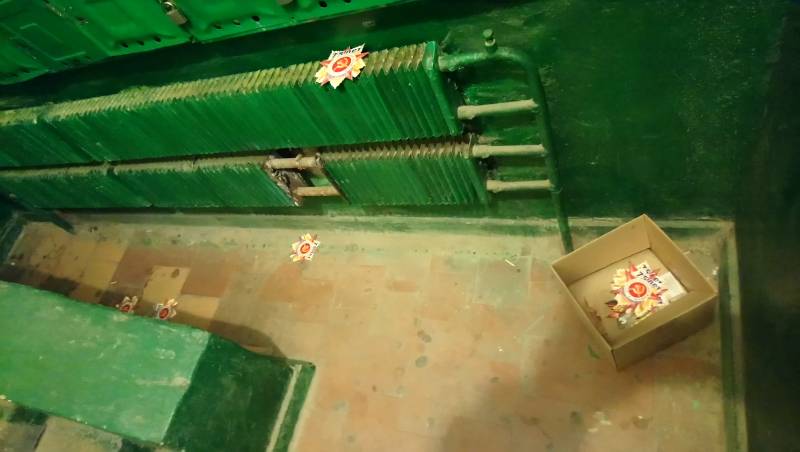 But napkins will become the leader of the parade. Very so wet. Perhaps even antibacterial. And I even admit that with each pack sold these unfortunate two rubles will be sent to the fund to help veterans. Honestly - I do not believe, of course, because only a moral renegade can earn money by speculating in this way.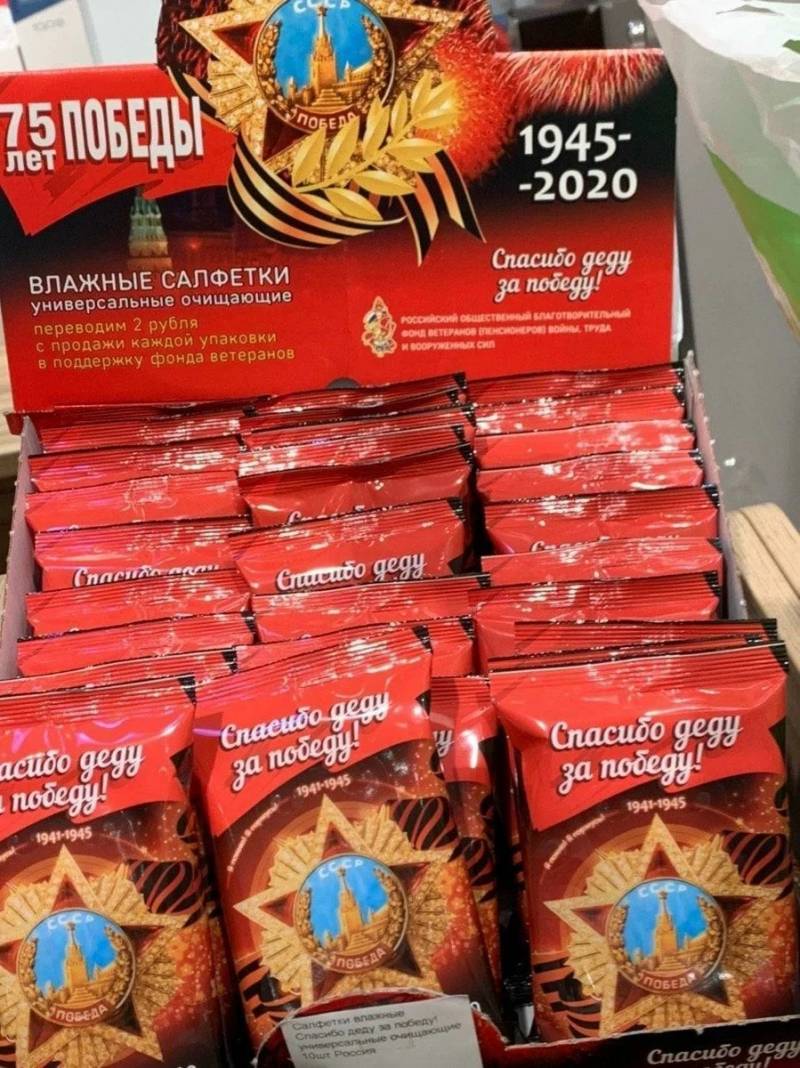 But they earn, nonetheless.
Now many will say: this is why we need to go when they say, accept these amendments, and then ...
And then what"? Nothing will happen then. A magic wand, even Rosgvardeyskaya, will not help. For changes must not be made to the Constitution, which almost no one has read. Changes must be made to the head.
If we act somehow differently, then we get what we have today. Sheer indifference. Colorful reports with a "beautiful picture" masking him, and quite successfully.
Not such a victory we need. But this is exactly what they impose on us every year. And every year there will be more and more such indifference and less reaction from the people. Just because Victory is not prescribed in the Constitution, is not spread on TV screens. She must live in the hearts of people.
And this is not prescribed, it is brought up. With which, as practice shows, we are all very sad.
So to whom, excuse me, say "thank you" for such a "Victory"? And how much is it needed, such a reporting and budget appropriated?
Every year, real veterans of that great war are becoming less and less. This should make everyone treat them with great respect and respect. Our society is simply obliged to say thanks, but why does it take on an increasingly grotesque shape every year?
Why, instead of Victory, do we have victory, vulgar and unprincipled? What is the problem once a year, without dropping ourselves into the mud, to celebrate the holiday and say thanks to those to whom we owe this holiday?
The problem is nationwide. Because I gave just examples here. The list could go on; it is simply huge. Miracles in Ryazan, Serpukhov, Tambov, Penza, Dzerzhinsk, Usolsk ...
There is a good term for what victory will sooner or later lead to in such forms.
Moral degradation.