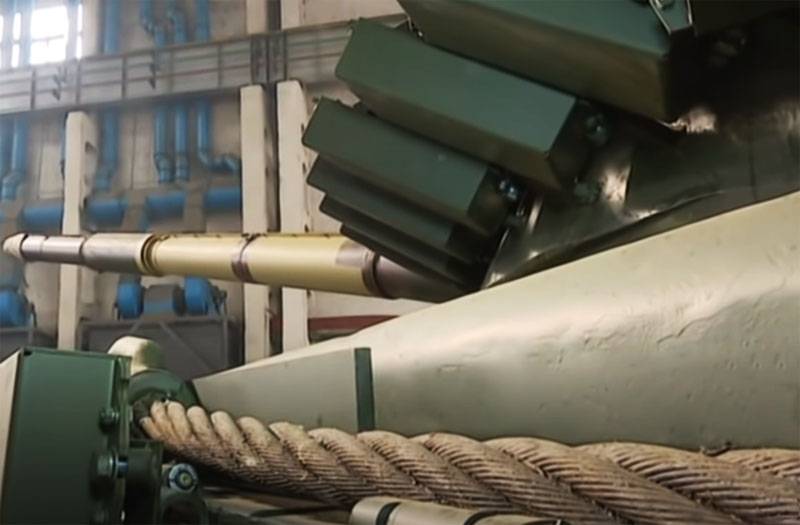 In 2016, the front pages of Ukrainian publications and
news
issues of large channels came out with information that Ukraine had begun to develop a promising
tank
Tirex It was stated that the developers are ready to submit a version of the MBT, which "will revolutionize tank building." It is noteworthy that it was immediately announced about the "number of superiorities" of the future Tirex tank over the Russian T-14 Armata tank.
Now, the Ukrainian sphere of military industry states that no revolution took place in tank building, and Tirex remained a "paper tank" - in the sense that it has no other version besides drawings on paper.
Initially, Tirex was going to repeat some aspects of the design of the aforementioned Russian T-14. In particular, it was a desert tower. It was argued that in the end, the tank could become completely unmanned.
The "planned" parameters announced in 2016: weight 39 tons, main armament - a 125 mm caliber gun with high-power shells, Duplet and Knife dynamic defense units developed by Kiev's Mikrotek. The emphasis was on the fact that the base model for the "iconic tank" should be the T-64.
Experts note that the design of the Ukrainian tank, presented several years ago, was, so to speak, technically unsustainable. In particular, we are talking about statements on the "creation of more powerful ammunition for the Tirex gun." With the voiced mass of the tank, firing from a gun with 125 mm high-power shells could lead to problems with the stability of the combat vehicle.
Especially this problem would manifest itself when shooting on the go.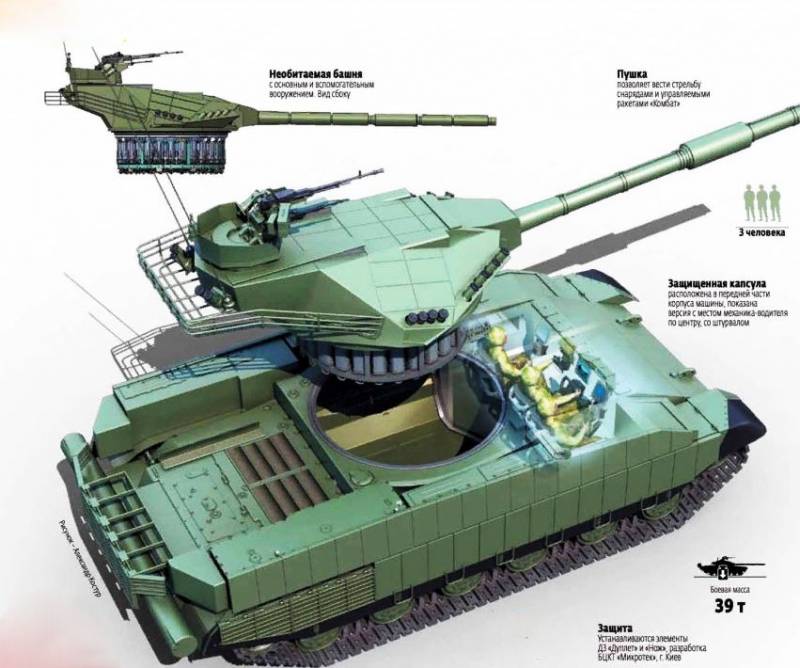 Among experts, there is an opinion that if the crew fired from a tank gun on the move, this could lead to exorbitant loads on the rear edge of the turret mount with the transfer of momentum to the ammunition. To avoid deformation of the rings holding ammunition, it would require either the use of a particularly strong alloy or an increase in the thickness of the ring structure. With suitable alloys in modern Ukraine, big problems. In the case of an increase in the thickness of the ring, this would lead to the need to reduce the number of shells in the ammunition by 3-4 units.
An additional factor of non-viability for the Tirex tank design presented at the time is the rear projection of the tower. If a projectile hits the turret from behind, even on a tangent projection, they themselves will increase the effectiveness of this hit. The figure is marked with a red triangle

With a high degree of probability, a hit of this kind would lead to the separation of the tower or detonation of the ammunition.