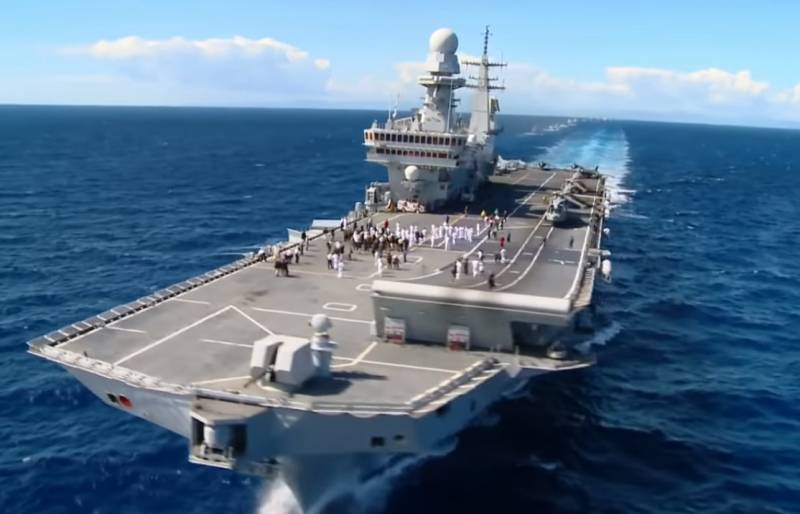 After the modernization, the Italian Navy aircraft carrier Cavour went to the open sea to conduct sea trials there.
Light aircraft carrier Cavour ("Cavour") is considered the flagship of the Italian military
fleet
. The week completed its modernization, which has been carried out since December 2018.
Previously, the AV-8B Harrier carrier-based attack aircraft were based on this warship, but by now they are already outdated. Now it was decided to replace them with F-35B aircraft, which are capable of shortened take-off and vertical landing. The Italian military purchased 30 such combat vehicles in addition to the F-35A with standard take-off and landing.
Now the aircraft carrier "Cavour" left the Taranto naval base to conduct sea trials. At the moment, the aircraft carrier team is preparing to move to the east coast of the United States. There she will have to work out the takeoff and landing of the new American F-35B fighters.
At the same time, Italy itself cannot answer the question of why the country needs an aircraft carrier in modern conditions and where it plans to use it. Indeed, in the Mediterranean Sea, the American naval squadron, which includes aircraft carriers, is quite "for allied defense," experts say.
But the answer to the question, why does Italy need an aircraft carrier, comes from the United States. There are satisfied with the actions of an ally. After all, Italy not only actively invests in military spending, but also buys American fighters, thereby supporting the economy of the United States.