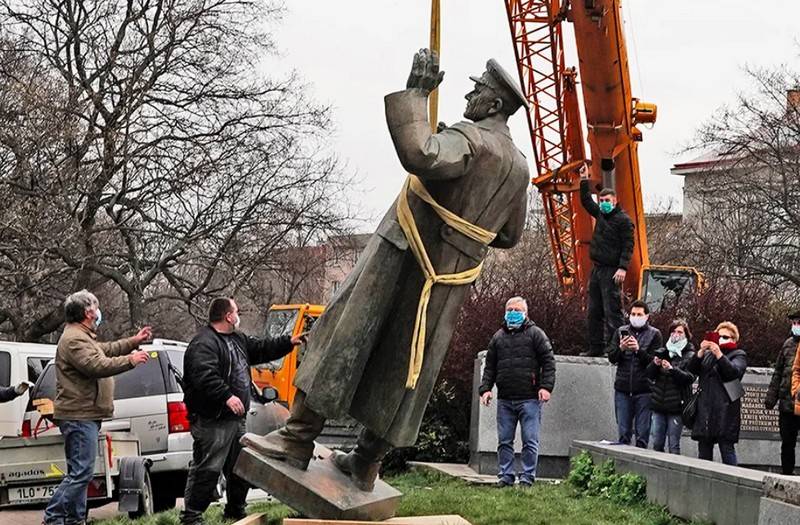 The dismantling of the monument to the famous Soviet Marshal Ivan Konev in Prague is nothing more than a "spit in the direction of the Russians" and a desire to rewrite your own
history
, writes Milan Daniel in an article for the Czech edition of Časopis argument.
According to the author, both the dismantling of the monument to the Soviet Marshal and the "threat" to erect a monument to the Nazis are attempts to rewrite history by people who do not think about what fate Hitler prepared for the country. The allegations that there was no liberation of Prague by the Red Army, but was "occupation", can be described as a "spit in the Russians", in the hundreds of thousands of Red Army soldiers who died in the struggle against fascism.
Who dares to interfere in our affairs? After all, we are a sovereign country and at home we can democratically and freely do whatever we please, including demolishing monuments to heroes, arrange provocations, changing the addresses of embassies, and distort history
- Daniel sneers, commenting on the reaction of the Czech Foreign Ministry to the Russian protest.
What reaction of the Russians, who are proud of their ancestors, to the demolition of the monument was expected by the Czech authorities, the author wonders. Naturally, he writes, they protested in Moscow, after which the Czech Republic began to fan an international scandal, hiding behind the phrases that "no country can order us" and "Moscow specifically spoils relations."
The author is surprised by the position of the authorities, who, instead of establishing equal and friendly relations with all countries, sided with Prague officials, allowing the "provocateurs" to influence state policy.
However, most of the citizens who have a historical memory, reason and reason are simply ashamed of such behavior in relation to a country that has done us nothing wrong
- summarizes Daniel.