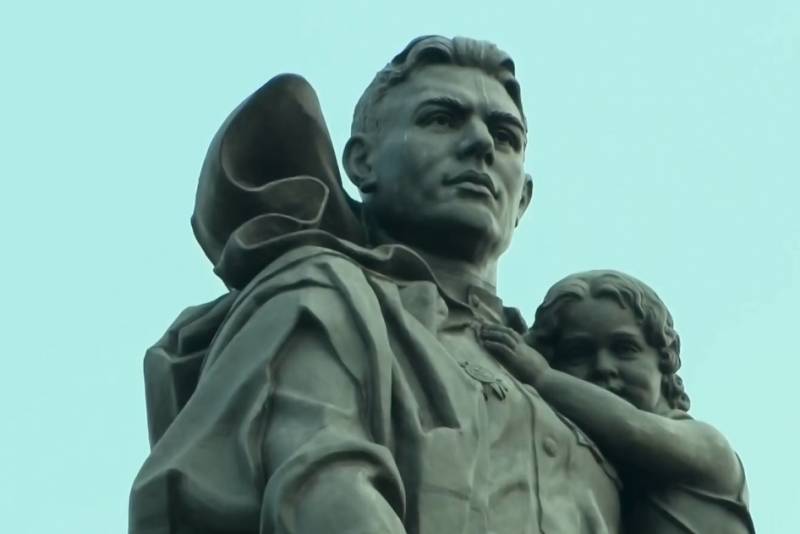 The hero of the article by David Crossland, published in the British edition of The Times, was 86-year-old Berliner Jörg Zonnabend. This elderly man in childhood, as the author writes, survived the assault on the German capital by Soviet troops.
Jörg was 1945 years old in 11. He, like most of his peers, was then in Jungfolk. The older children of Jörg were in the Hitler Youth.
An elderly resident of Berlin shared his memories of the capture of Berlin by Soviet troops, focusing the British on the "atrocities" of Russian soldiers.
Inaccuracies and inconsistencies in the narration of Mr. Zonnabend can even be noticed by an amateur. Apparently, something Jorg forgot, somewhere the British author added drama. Take, for example, such words in the article:
He fled from British aircraft on a low-level flight, dodging Russian bullets.
Jörg told how Russian soldiers took away watches from residents, how dead German soldiers lay on the streets with their shoes removed. He also mentioned his bicycle, which the Russians "stole".
As for the rape of Berlin women, then, according to the pensioner, "they were, but he only knows about them from the stories of others, he himself did not see it." Well, Zonnabend also did not see a military tribunal over those Soviet soldiers who committed crimes.
One can be surprised (after all, a certain stereotype of the British is still present), but in the comments to the article, the majority of the British who spoke did not sympathize with Jörg and agree with the author's conclusions.
One of the commentators was not at all sympathetic to little Jörg:
Am I supposed to cry - a poor boy from the Hitler Youth and his unfortunate people who crushed half of Europe under themselves? Heard about the atrocities of the Russians, how can ... But about the atrocities of the Germans, of course, have not heard?
Another Briton noted that there may have been cases of looting and violence by soldiers, but the perpetrators were severely punished for them by the Soviet command:
Individual people robbed and raped - and this is in contrast to the Germans, in whom everything was officially and approved from above.
Another commentator suggested that an atmosphere of fear reigned among locals in Berlin in 1945. After all, many of them knew about the real war crimes of the Germans in the occupied territories of the USSR, therefore, they were awaited with revenge by the Soviet soldiers:
Millions of Germans served on the Eastern Front. Regular army units regularly committed war crimes against civilians and prisoners of war. Many wrote home and boasted of their exploits in dismissal, for treatment in hospitals. The Germans were afraid of the Russians like fire — they knew what they had done on the Eastern Front!