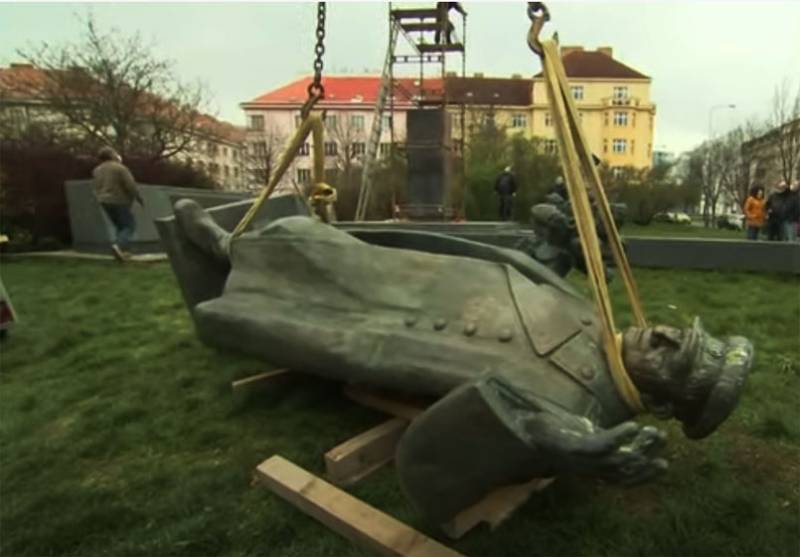 The district headman of Prague-6, Ondzhej Kolář, who was charged with the "final decision" on dismantling the monument to Marshal Ivan Konev, was not limited to personal protection in connection with the "danger emanating from Russia".
Recall that earlier in the Czech edition of Respekt it was allegedly alleged that the threats were addressed to Kolář, Novotny (the head of another Prague district), as well as against the mayor of the Czech capital. It was announced that supposedly from Russia "a group of scouts had already left to retaliate against these people." The statements looked like a blatant provocation, while Kolarge himself and his "team" looked like potential sacred victims of the special services of Western countries with the aim of subsequent accusations against Russia.
Now it becomes known that Mr. Kolarge decided to complain about Russia to the European Commission altogether. The case when the task of demolishing the monument to Marshal Konev was carried out on the instructions of overseas partners, and Brussels has to complain about the reaction of Russia.
The EC confirms familiarization with the open letter of Kolarge, in which he complains of "inadequate reaction from the Russian Federation."
It must be recalled that in our country a criminal case was opened on the fact of vandalism (demolition of the monument).
Kolarge writes that threats and insults are heard in his regard, as well as in relation to his colleagues on the "headman" of Prague. The offended Kolarge calls on the European Commission to condemn Russia, calling our country the "hybrid war" launched in Prague. In this case, the steady expression of the "burning hat" is recalled ...
I would like to ask Mr. Kolarge if he realizes that it is his overseas partners who are used as a provocateur puppet, which is a cog in that very hybrid war - only against Russia, against
historical
the memory of the Czech people themselves? There is an opinion that he is aware, therefore, and is trying, as they say, to shift the blame and responsibility onto Russia in order to try to whitewash himself and those like himself.