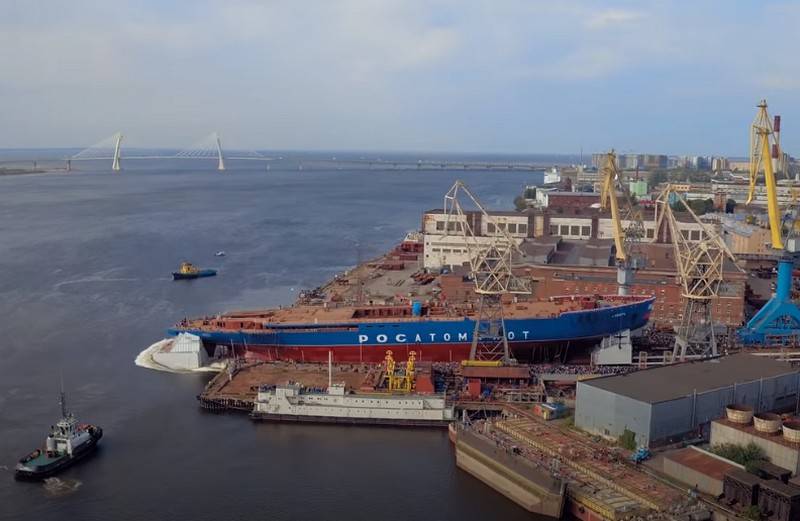 The laying of the third serial nuclear-powered icebreaker of project 22220 is planned for May 2020 at the Baltic Shipyard in St. Petersburg. This was reported by the press service of the enterprise.
In May of this year, we plan to lay the third serial nuclear icebreaker of project 22220
- said in a statement.
The planned icebreaker will be the fourth vessel of project 22220 and the third serial. The leading icebreaker of the Arctic series is undergoing sea trials; its transfer was scheduled for May this year. The first production icebreaker Siberia was laid in 2015, the second - Ural - in 2016. At present, both icebreakers are being completed afloat, the deadline for commissioning Siberia is 2021, and the Urals 2022.
Last year, the State Atomic Energy Corporation Rosatom announced a decision to extend a series of icebreakers of Project 22220 by two more units. It is planned that the fourth icebreaker of the series will be handed over to the customer in 2024, and the fifth, the bookmark date of which has not yet been determined, in 2027.
A feature of the 22220 project icebreakers is the use of variable draft using ballast tanks. Double-deck ships can operate both in deep water and in shallow water in river beds, overcoming ice up to 3-meters thick without losing speed. According to project data, new icebreakers will become the largest and most powerful in the world.
The main power plant of icebreakers includes two "Rhythm-200" reactors with thermal capacity of 175 MW each. Its main advantage over other similar installations lies in its compactness and economy, as well as energy-efficient integrated layout.