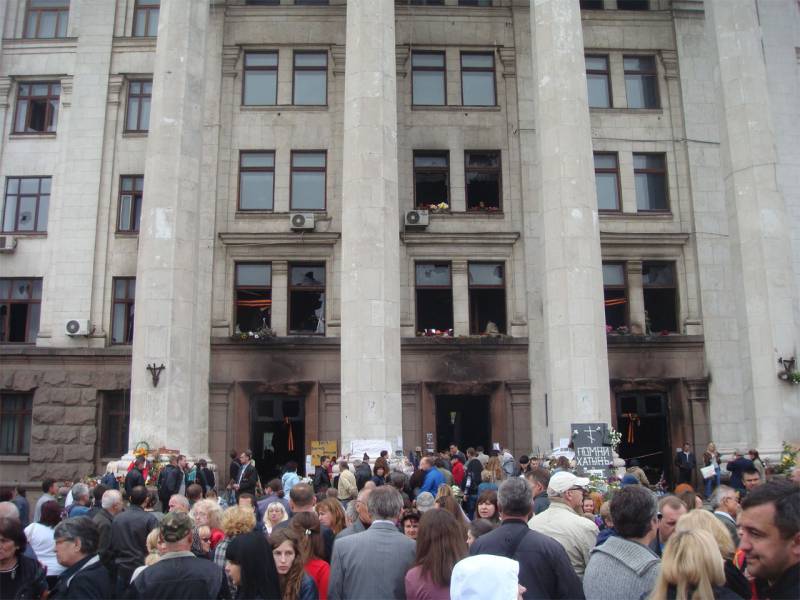 Six years have passed since that tragic day that divided
history
Odessa on the "before" and "after". We are talking about the events that took place in this city on May 2, 2014, without leaving indifferent normal people around the world. Normal ...
In Ukraine itself, even then they did everything, and today they do everything so that those events are forgotten, are bombarded with dust of history.
Six years from the day of the clashes on the Kulikovo field, six years from the day of the burning and execution of people in the House of Trade Unions. Dozens of dead. It's like yesterday.
How do Ukrainian media write about this today?
At the moment - nothing ... Large information resources, Ukrainian TV channels so far prefer not to "remind" citizens about what happened in Odessa on May 2, 2014. Even the Odessa city portal does not dare to remind residents of the city of the events of 6 years ago. Instead, it is currently proposed to discuss "
news
"That there were 5 monuments to Vladimir Lenin in the Odessa region, and that the prosecutor's office on this fact decided to institute a case on violation of the law on" decommunization ".
Who suffered the death penalty?
Of the real culprits - virtually none. And this despite the fact that hundreds of gigabytes of videos are walking on the network, in which all the people involved are shown in close-up, including those who were in the chair of a deputy of the Ukrainian parliament today.
This suggests that the current Ukrainian government continues to flirt with the radicals, not playing, by and large, no role in building statehood. But Ukrainian political scientists, and those who are among the political elites, so like to talk about this statehood, about the "unity of the Ukrainian people".
This is also a real abuse not only of the memory of people, but also of justice.