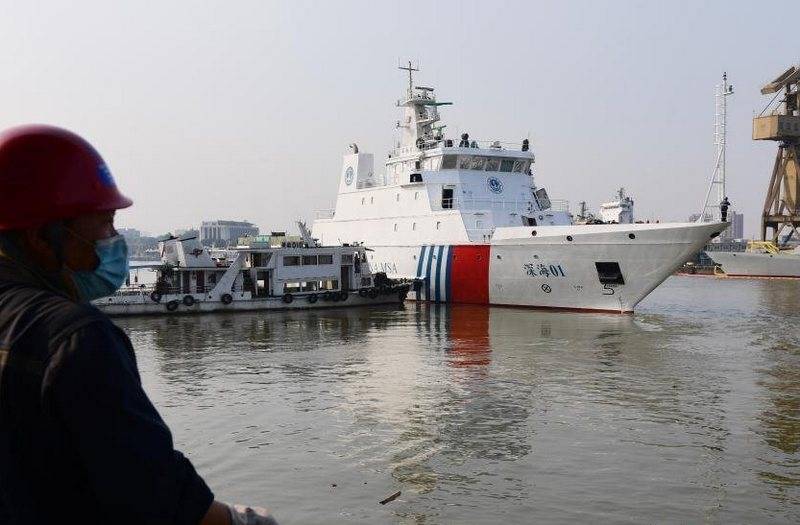 Shenhai 01 (Deep Sea 01) patrol and rescue vessel launched in China, the first ship in China with an electric power plant with lithium-ion batteries. The ceremony was held on April 28, 2020 in Guangzhou at the Chinese shipyard Huangpu Wenchong Shipbuilding Company Limited, reports the bmpd blog.
Reportedly, the ship was built by order of the Shenzhen Maritime Administration to ensure the safety of wiring gas carriers. The contract for the construction of the vessel was signed in 2018, the transfer of the vessel to the customer is scheduled for this year.
Among the tasks of the new ship are patrolling and pilotage, monitoring the safety of approaches to the port of Shenzhen, monitoring the sea and air conditions and emergency rescue operations.
The total displacement of the vessel is 1450 tons, length - 78 m, width - 12,8 m and draft - 5,5 m. Crew 60 people. The ship is equipped with underwater remotely controlled vehicles, there is a helipad. Speed ​​18 knots, cruising range - 1000 miles.
A hybrid electric power plant is installed on the vessel, which includes three diesel generators with a capacity of 2080 kW each and two propeller-thruster columns with electric motors, as well as two groups of lithium-iron-phosphate batteries of the declared capacity of 750 kWh. Electric motors are powered by rechargeable batteries, which are charged from diesel generators.