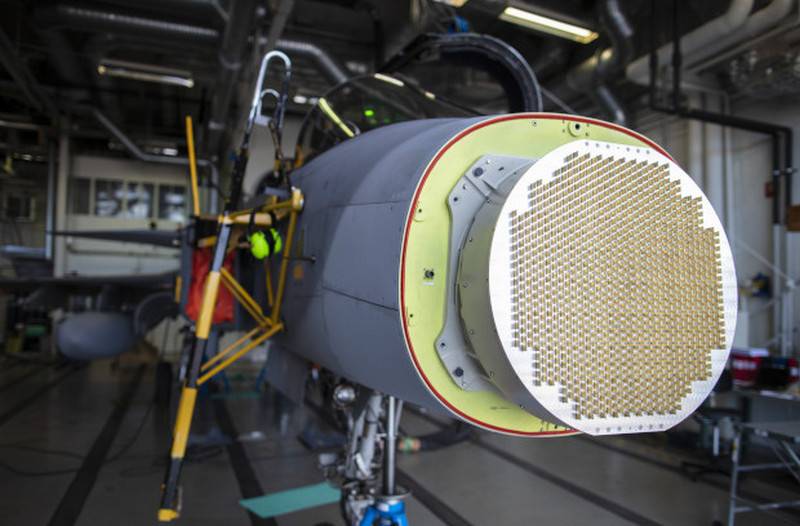 Swedish fighters JAS-39C / D Gripen in the near future can get the upgraded radar PS-05 / A with active phased array antenna (AFAR). Flight tests of the JAS-39D fighter with a new radar began in early April of this year. This was reported by the press service of the company Saab.
The Swedish company Saab began flight tests of the upgraded radar PS-05 / A with AFAR, designed for installation on fighter JAS-39C / D Gripen. The first flight of the AS-39D fighter with an installed radar took place on April 8, it lasted 90 minutes and was recognized as fully successful. In total, within the framework of the tests, which will last 4 months, 15 flights are planned. The radar mounted on the JAS-39D fighter will be tested in various modes of operation.
According to NPlus1, the upgraded radar received an AFAR with transceiver modules based on gallium nitride. The antenna field of the radar consists of a total of 500 such modules. It is noted that the PS-05 / A radar itself is designed in such a way that its installation on Swedish fighters does not require reworking the power and cooling systems.
The company's message does not say anything about the plans and deadlines for installing the upgraded PS-05 / A radar with AFAR on the JAS-39C / D Gripen fighters.
Note that the new version of the Gripen fighter - JAS-39E / F - was originally equipped with radar with AFAR Raven ES-05, developed by the Italian concern Leonardo.
JAS 39 Gripen is a fourth-generation Swedish multipurpose fighter developed by SAAB in the 80s. The abbreviation JAS stands for Jakt - fighter, Attack - attack aircraft, Spaning - scout. The first model of the fighter (Gripen A) was adopted by the Swedish Air Force in 1997 year.