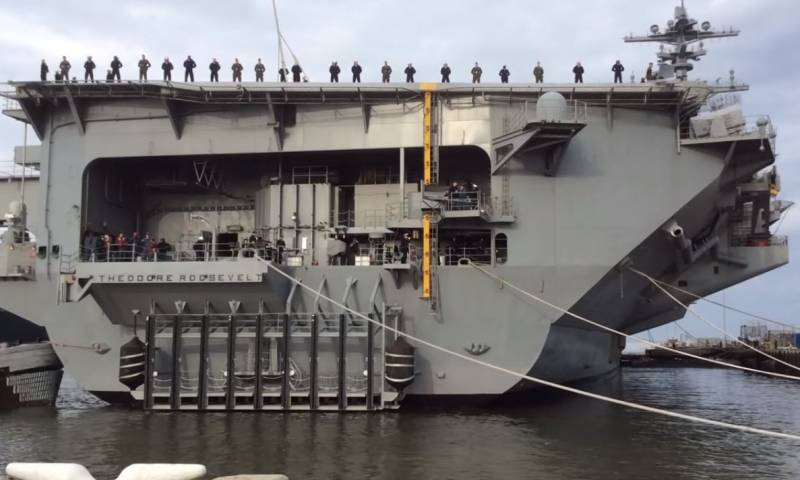 Brett Crozier, who was dismissed from the post of captain of the aircraft carrier Theodore Roosevelt for a report on the situation on the ship with the incidence of coronavirus, can be restored. But US Secretary of Defense Mark Esper has not yet made a final decision on this issue.
The situation around the dismissal of the captain of an American aircraft carrier is discussed by the American press.
Before talking with the command of the US Navy about the future fate of Brett Crozier, the head of the Pentagon wants to study in more detail a copy of the preliminary investigation of the Naval
fleet
about the outbreak of COVID-19 on board an aircraft carrier.
The scandal in the American media space erupted after Crozier's report somehow got to the press. As it turned out, the captain sent a report not only to his immediate superiors, but also to other senior officers of the US Navy, based in the Pacific Ocean. About his act sharply and negatively expressed the US Navy Secretary Thomas Modley (by the way, later also resigned). But many US military approved Crozier's act, saying that the commander of the warship did everything to protect the interests of the crew.
This particular case reflected disagreements among the command of the US Armed Forces about what is more important: to maintain combat effectiveness or save the lives of personnel. Crozier considered that he did not have the right to sacrifice the lives of the crew of an aircraft carrier in peacetime:
We are not at war now, so why should my sailors die?
In such a situation, Crozier has every chance to return to the aircraft carrier as a commander (in the American version - the captain), or even go higher up the career ladder.