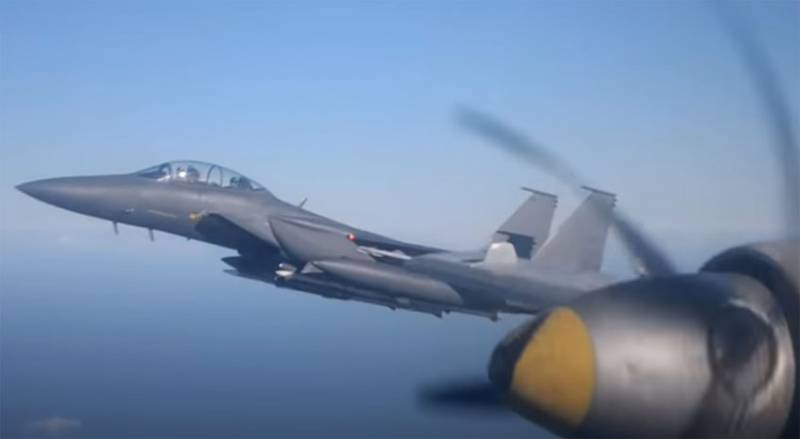 The network discusses some oddities associated with the approach of the Russian IL-38 anti-submarine aircraft to the US carrier George Washington aircraft carrier. The video is published on the FighterBomber channel.
The first fighters were lifted into the air when the aircraft of the Russian Navy was about 16 nautical miles (less than 30 km) from the aircraft carrier. By and large, the approach of the aircraft at such a distance meant the possibility of unhindered shelling of the target in the form of an aircraft carrier and its wing.
At the same time, for the fighters, which were eventually sent to intercept, a lot of difficulties arose. The main one was the speed parameters of the movement of the Russian anti-submarine aircraft.
Fighter F / A-18 Hornet and F-15 had to move at the minimum speed limit in order to escort the IL-38.
Judging by the video, it was especially difficult for the F-15, which was rising from the airfield of one of the US military bases. You can recall a recent video where, due to the difference in speed, the Polish F-16 had to produce a landing gear in the air to intercept Russian aircraft. In the case of the American F-15, this was avoided, however, the fighter had to pretty much lower its tail, slowing down to a minimum.
Another strange thing is that the pair of carrier-based fighters that accompanied the IL-38 "in shifts" took off from an aircraft carrier without missile weapons, which are usually shown when intercepting an air target. Experts have already joked about this, noting that American pilots apparently became great pacifists and decided to act exclusively with a "kind word" and a "prayer in the eyes".
This belated reaction from the wing of the US Navy suggests that the US side was, to put it mildly, not quite ready for the appearance of a Russian anti-submarine aircraft near its ship. In turn, this may indicate certain problems aboard the aircraft carrier George Washington.