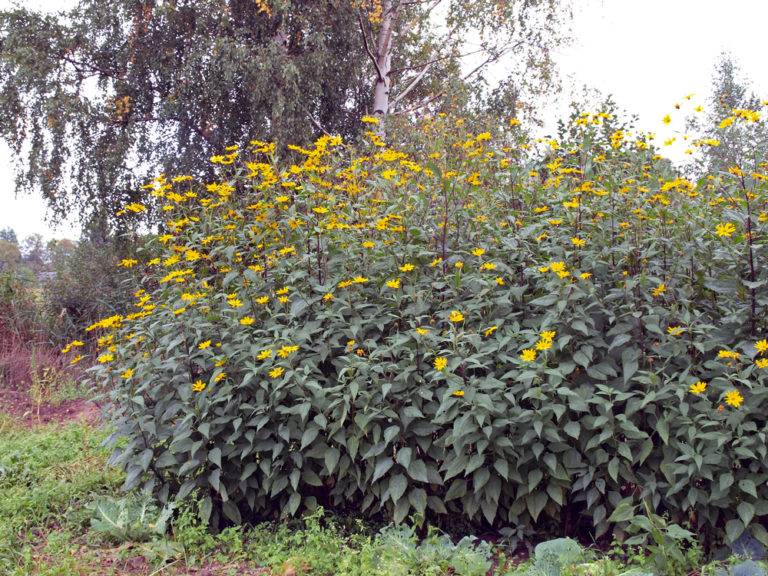 Jerusalem artichoke general plan. See how it grows in our Palestine
We continue the evergreen theme of hunger and war. For wartime agriculture, which will undoubtedly experience an acute shortage of labor, equipment and fuel, the most important crops are those that grow well, produce a large crop and do not need labor-intensive care.
One of these crops is Jerusalem artichoke. It is also known as an earthen pear. An amazing plant, which in our latitudes gives about 36 tons of green mass and about 43 tons of tubers per hectare (in favorable conditions - up to 150 tons of green mass and 232 tons of tubers per hectare). The green mass goes to feed the animals, and tubers can be eaten raw, cooked and obtained from them a number of food products, as well as get sugar syrup, suitable for consumption as well as for processing for alcohol.
Jerusalem artichoke is frost-hardy, its tubers are often planted in October as a winter crop, and the crop is harvested the following year. Its agricultural technology is very close to potato, and therefore harvesting is possible with potato harvesters, for example, KKU-2A with a special nozzle. If you leave about a third of the tubers in the ground after harvesting, then you can maintain its planting for 4-5 years in a row (subject to the application of fertilizers), although in some cases the crop was grown on one site for 30-40 years in a row. In general, not culture, but the dream of a military agronomist.
However, he also has a serious drawback, due to which Jerusalem artichoke has lost competition to potatoes. Its tubers cannot be stored for long. The peeled tubers are stored for about a month, and the tubers, not peeled from the ground, are stored for 2,5 months. Even minor damage to the tubers causes rapid spoilage. That is, Jerusalem artichoke can not be dumped like potatoes into the basement and little by little spent. Therefore, an attempt to introduce it on collective farms in the 1930s failed. Jerusalem artichoke must be processed immediately after harvesting, and this processing is very time-consuming. And in general, without mechanization, a lot of work is required for both cleaning and processing.
Nevertheless, the culture is very attractive for wartime, especially since over the past decades a great experience has been gained in cultivating and processing it. You can adapt to its features.
Culture for feeding cities
The main advantage of Jerusalem artichoke is that it can be cultivated on small plots of land. As a perennial plant, it does not require plowing. Only loosening of row-spacing and hilling is required. Under the potatoes, the land needs to be plowed and carefully harrowed, otherwise it is difficult to get a good crop and large tubers. An exception to the work of plowing and harrowing is a serious plus for the military economy, since it is these agricultural work that account for the main fuel consumption.
A small plot is, for example, a summer cottage or a vegetable garden. According to the experience of those who cultivated Jerusalem artichoke in small areas where the land can be well fertilized and cultivated, the yield was 1,2-1,5 tons of tubers and 3-4 tons of greens per hundred square meters. 1200 kg of tubers per hundred square meters is a lot, this is a daily ration (it is recommended to consume about 300 grams of Jerusalem artichoke tubers per day) for 4000 people, or for 130 people for a month.
That is, it is a food culture for settlements, especially cities. Small plots of urban land reserved for gardens, as was done, for example, in the besieged Leningrad in 1942, can greatly alleviate the tense food situation. The urban agglomeration, in which this business is well placed, can produce a lot of Jerusalem artichoke. One hectare will give tubers sufficient to provide 4,7 thousand people per month, based on a yield of 43 tons per hectare.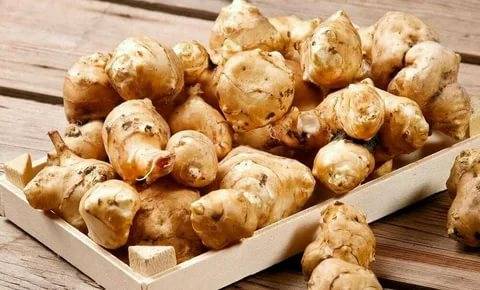 Jerusalem artichoke tubers
If you sit in a siege for a long time or fight in an isolated area with insufficient food resources, planting Jerusalem artichoke will not allow you to stretch your legs from starvation. Tubers can be eaten raw (up to 150 grams per day), and tea is brewed from the leaves. From the stems and tubers, the press can squeeze the sweet juice, which can be boiled until sweet syrup.
The fact that Jerusalem artichoke, in essence, is a winter culture, also allows you to circumvent restrictions on the shelf life. For this, the tubers are simply left in the ground after ripening, and dug up as necessary. In warm and snowy winters this is most convenient to do. There is also a way to store harvested tubers in cellars or in pits where tubers are sprinkled with sand.
I did not come across information about the cultivation of Jerusalem artichoke in greenhouses. However, judging by everything, in a backlit greenhouse that is not warmed up or warmed up to room temperature in winter, Jerusalem artichoke can grow almost all year round and mature faster than in open ground. I have always been outraged by the cooling towers of large power plants, in which millions of gigacalories of heat are thrown into the air to condense the spent steam. This residual heat needs to be planted in greenhouses and spent on growing food crops like the same Jerusalem artichoke.
Mechanical cutting problems
Both Jerusalem artichoke and many of its products are perishable. However, dried Jerusalem artichoke can be stored for a long time, up to a year. It is not done in such a complicated way. Washed tubers are cut into slices, which are dried for 4-5 days under a canopy in the shade in the open air or 2-3 hours in the oven at a temperature of 60 degrees.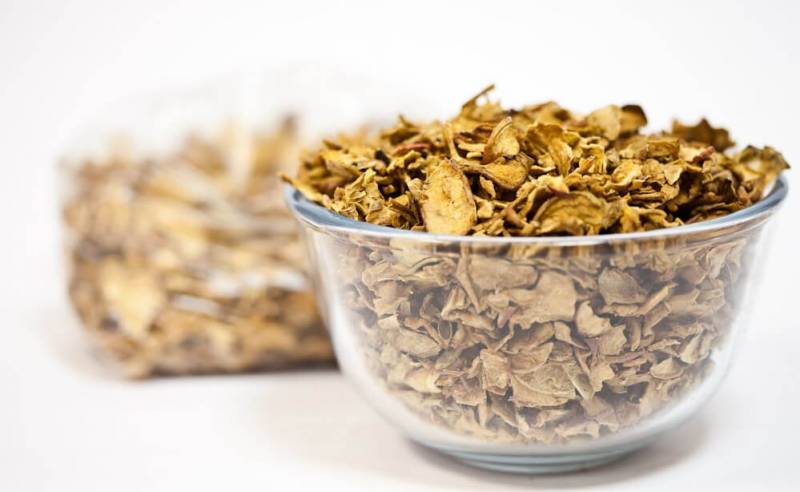 Dried Jerusalem artichoke
The whole problem is the complexity of the preparation. With a knife, manually shred even a ton of tubers - the hand will fall off. Need mechanization. Industrial cars are quite expensive. For example, a root cutter for slicing potatoes with straws or slices with a productivity of 500 kg per hour in 2017 cost 350 thousand rubles. With a capacity of 3 tons per hour - 585 thousand rubles. If you need to process crops from several hectares or tens of hectares, you can not do without them. For a smaller scale, there are manual vegetable cutters, in the cost range of 1,5-3,5 thousand rubles, which are much more productive than a knife. Electric vegetable slicers are not very suitable, as they often have a time limit for continuous operation. There are also nozzles and knives for cutting vegetables to electric meat grinders; It is thought that for processing crops from a small plot and at home, this is the best option for the productivity and laboriousness of the process.
In principle, a set of modern kitchen appliances can solve the problem of the complexity of preparing Jerusalem artichoke for drying (which collective farmers could not do in the 1930s, they did not have such equipment yet). After drying, there is a supply that lies in a cool place for about a year. Dried Jerusalem artichoke can be nibbled dry, and can be boiled, it is similar to dried potatoes.
To the joy of the pigs
Before harvesting Jerusalem artichoke should be mowed to a height of 30-40 cm from the ground. This operation is carried out two weeks before harvesting tubers in the fall. Or you can mow twice a year, in summer and autumn. After the first mowing, the plant has time to grow.
On an industrial scale, there are no particular problems, for this there are special mowers and forage harvesters for tall crops. But for small plots, of several hundred or a couple of hectares, mowing Jerusalem artichoke can turn into something comparable to the work of slaves on sugarcane plantations. Mechanization is also needed here. If possible, you can use a rotary mower for walk-behind tractor (such mowers are used for corn or reeds). Or here is a great German idea: a manual mower for reeds: from 5 to 10 knives-links, movably connected by bolts and equipped with weighting materials, at the ends there are two chains with handles. Two people pull this mower alternately on themselves, like a two-handed saw, and mow a strip with a width of 2,5 to 5 meters.
Why is so much attention paid to this? Because hindsight can be expensive if you plant a Jerusalem artichoke, and then find out that you don't have enough strength to mow it. With the solution of this issue, the stems and leaves of Jerusalem artichoke will go to the delight of pigs as feed. In principle, spring harvesting of winter tubers and then mowing green mass will allow feeding pigs and poultry without using other types of feed, for example, bran or compound feeds. In wartime, grain is a value, the percentage of grinding is increased and therefore bran, waste from flour milling, also becomes smaller.
An interesting feature of Jerusalem artichoke is that it can be fed to pigs without cleaning. On the mown field, pigs are simply released, who themselves dig and eat tubers. A dozen hectares of Jerusalem artichoke in the immediate vicinity of the pigsty are quite able to solve the feed problems of pig farming. Yes, in the military economy one has to think about such issues, since it is possible, of course, to fight without pork, but hardly good.
In general, it is possible, although difficult, to fight without missiles and planes, but it is impossible without food. Therefore, agriculture must be prepared for war to the best of its ability, including crops that can be grown quickly, easily and least laboriously.
Thus, Jerusalem artichoke is a very good military food culture that provides both a food product for people and animal feed. Jerusalem artichoke can be obtained a lot from very small areas. It is difficult to find a better culture for the pasture of the army and population.