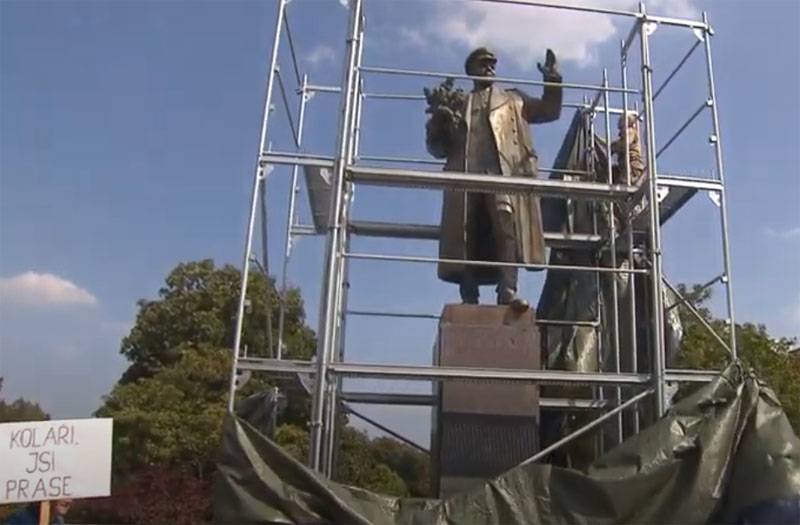 Information appeared in the Czech media about the alleged serious threat to the head of the Prague-6 district, the country's capital Ondřej Kolář. We are talking about a man whose final order demolished a monument to Marshal Ivan Konev - the liberator of Prague from the Nazis. Recall that the head of the municipality, trying to explain the reasons for dismantling the monument, cynically declared: "The monument did not have a mask. This is dangerous now. "
The Czech publication Respekt published an article by Onjay Kundra, who writes that "the danger against the head of the municipality of Prague-6 manifested itself after the Minister of Defense of the Russian Federation Sergey Šoigu announced his intention to prosecute Czech municipal officials for demolishing the monument to the Soviet Marshal." Kundra reports that in connection with this, Ojj Kolarzh was given personal protection. Protection is also now available to the mayor of the Czech capital Zdenek Grzyb and to the head of one of the Prague municipalities, Pavel Nowotny.
Zdenek Grzyb confirms security data:
Yes, I have a temporary police guard. The deadline has not yet been set.
From a material in a Czech newspaper:
All three have long criticized authoritarian regimes in Russia and China. In the case of Kolarge, this is not a precaution: sources claim that a Russian citizen arrived in Prague who could be a threat to Kolarge. In addition, shortly before this, a group of scouts from Russia to Europe was noted.
The publication Respekt is trying to announce that some "Russian scouts" were sent to the Czech Republic to get even for the demolition of the monument to Marshal Konev ...
For obvious reasons, Kundra does not provide any evidence of the "movement of scouts" in his article. But on the other hand, it declares that Onjay Kolarge "has already received threats of physical violence in his address in connection with the decision to demolish the monument."
This publication itself may indicate that interested parties may well go for the implementation of anti-Russian provocation. If we take into account that after the demolition of the monument there were more ill-wishers at the Collage (for example, a local resident with the inscription "Collage is a pig" is visible on the photo) among Czech citizens themselves, any attempt to take revenge on him can be passed off as "Russian intervention". And for Western intelligence services, the Collage can even turn into a "sacred sacrifice" - again, as an act of provocation against the Russian Federation with the aim of blaming our country for this. So, here it's right for Kolarzh himself to think about who he really needs protection from.