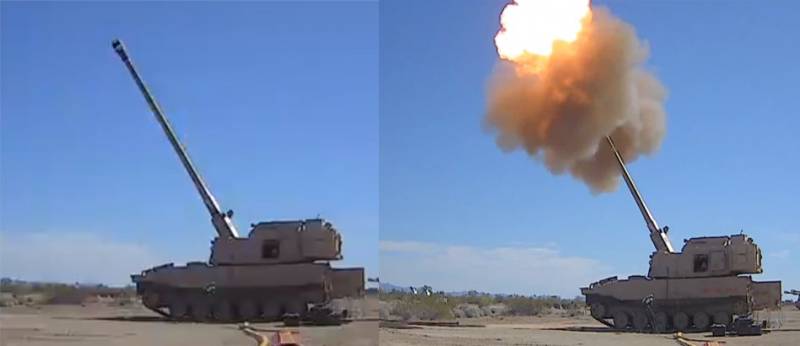 In the United States, tests of the promising self-propelled artillery mount XM1299, equipped with the 155 mm XM907 gun, are ongoing. At the same time, almost at every test run, American-made self-propelled guns have new elements. Earlier it was about additional protective screens, as well as on the elements of the airborne radar system.
During the tests, which were conducted at one of the training grounds in Arizona, a firing range of more than a hundred kilometers was demonstrated. Thus, the evidence was confirmed that the promising self-propelled gun XM1299 is capable of hitting targets located at distances of 100 or even more km. This is achieved both with the help of the technologies realized when creating the XM907 gun, and with the use of long-range ammunition.
In this regard, the United States discusses the accuracy of firing at very long distances. At the same time, the military themselves make it clear that the self-propelled guns are not tasked with the indispensable "point" destruction of enemy targets and weapons. The promising self-propelled gun XM1299 is primarily preparing for the US Army as a means of inflicting maximum damage to the enemy, including damage to its protected facilities, using various types of ammunition.
Nevertheless, during the tests, they also use adjustable ammunition, which are capable of hitting a target with minimal deviation at very large (by the standards of artillery) distances.
In turn, the question arises about the possibility of using tactical nuclear warheads. The possibility of using such ammunition for the XM907 gun is quite possible. Although there is no official data on this subject yet.
The US Army expects the start of serial deliveries of the XM1299 in 2023 as part of the LRPF program - "Program for the implementation of high-range shooting."