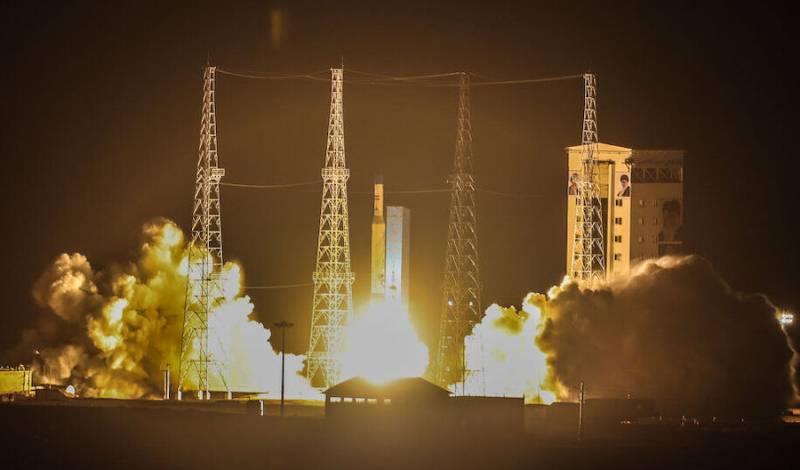 Launch of the Simurg ILV
In Iran, on April 22 in the early morning, a successful launch of a space rocket (ILV) called "Qased" took place. "Quesed" in translation from Farsi means "Messenger". As officially reported, during the launch, the spacecraft (SC) Noor ("Nur" means "Light") was launched, which was declared "Iran's first military satellite".
This is not the first time that Iranians have successfully launched satellites into orbit, although the number of successful launches is still very small; there are not a dozen of them. What is interesting about this launch?
Their companions ...
The first Iranian satellite fell into a circular orbit with an altitude of about 700 km on our Cosmos-3M LV in 2005 on October 27 during a cluster launch with a pack of 8 small spacecraft, including our Mozhaets-5, as well as Chinese, British and other satellites. That satellite was called Sinah-1 and was considered one of the "Earth Remote Sensing Satellite" (ERS), and others and a species reconnaissance of a primitive level. Of course, the difference between peaceful remote sensing and military intelligence is almost as "great" as between its scouts and other people's spies, because it is clear that a peaceful spacecraft can take pictures for the military, even if they are not entirely satisfying in quality and resolution, but in 80% of cases the military will be satisfied with such a quality. And such practice in the world all the time, not excluding our country, where remote sensing satellites of the Resource-P type and a number of others are involved in the operation, say, in Syria.
Sinah-1 was officially also considered a "telecommunication" spacecraft, although it was unlikely that this device could contain serious communication equipment together with electron-optical view equipment with its weight of 170 kg, but could send some messages. Following Sinah-1, 2 spacecraft of Iranian-Italian development were planned, but Italians were forced to leave the project for sanctioned reasons. The next spacecraft and the first one that the Iranians independently deduced was Omid - a telecommunication (capable of primitive signal relay) microsatellite weighing 27 kg, launched into orbit 258x364 km of Iranian ILV Safir ("Ambassador") on February 2, 2009. This 40-cm "cube" (he had a cubic form) he stayed in orbit for 2 months and then left it.
... and their carriers
The 26-ton Safir launcher itself was a liquid rocket created on the basis of military missiles, and, if one delves deeply into their North Korean-Iranian roots, goes back to our Elbrus R-17M operational-tactical missile (OTR). The next launch of Safira, although of improved version 1A, was also successful. In 2011, the Rasad-1 micro-SC was launched, as well as a remote sensing reconnaissance satellite or satellite, as you can see. Of course, there is little sense in the "flying camera" weighing 15 kg, anyway, such devices are not able to do any more detailed pictures now, but there's nothing to say about a decade ago. Serious military specific intelligence officers weigh tons, the optics on them are large and massive.
In total, Safira-1 modifications 1, 1A, 1B and 1B + were launched into space 6 times, 4 attempts were successful, 1 more launch was a test without load and 1 did not take place, because the carrier pulled on the launch pad before launch. Apparently, with the dressing they were smart. This is precisely his secret, we note, satellite image published last August by Trump on Twitter, which caused anger among his own scouts. But it is clear that having a carrier with a maximum load of 65 kg in low orbit is, of course, not serious, this is not a space program, but a circle of young technicians is obtained.
Iran also has another carrier, the Simorgh ILV (Simurg, also known as Safir-2) weighing 77-85 tons, also built on the basis of liquid engines in both stages (also of military origin, in particular from a ballistic missile medium-range, BRDS, Ghadr), and the booster there is also liquid. This ILV is designed for a payload of 150-200 kg. But of the 4 launches, the first was successful when there was no load on board, and partially successful - the last, on February 9 of this year, when the 113 kg Zafar telecommunication spacecraft (Pobeda) was launched to a circular orbit height of about 530-540 km high , but the launch speed was 6,5 km / s instead of the required 7,7 km / s, and the satellite did not remain in orbit. The Iranians, after recognizing their failure, immediately declared that by the end of 2021 they intend to make another 5 launches into space. All these launches were carried out by a civilian organization, the Iranian Space Agency, and the carrier, despite its military origin, is also civilian. Although the combat crews were still military, they were simply formally considered civilian. And the satellites, despite the clearly dual purpose of a number of them, are also formally civilian. And the cosmodrome named after Imam Khomeini is also a civilian one.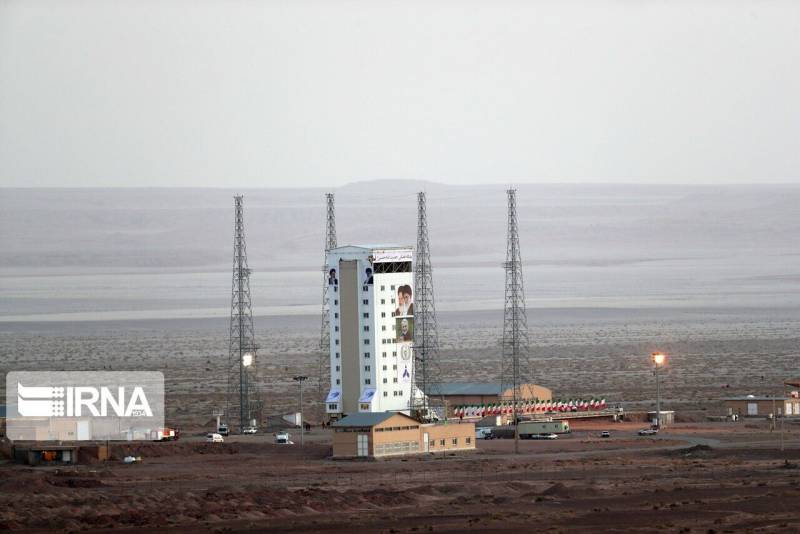 ILV "Simurg" at the spaceport inside the assembly and test building. As you can see, it's a completely civil type of construction
The first military who is not the first military
But the current launch was officially carried out by the military, namely the IRGC, or, more precisely, the ACS IRGC, the aerospace forces of the IRGC of Iran (sometimes they are translated as the airborne traffic force of the IRGC, by analogy, of course, with our airborne forces). And the Shahrud test center, the carrier, and the device itself belong to the Islamic Revolutionary Guards Corps, which is why they declared it the "first military satellite." The Nur spacecraft was launched into an approximately circular orbit of 426x444 km with an orbital inclination of 59,8 degrees.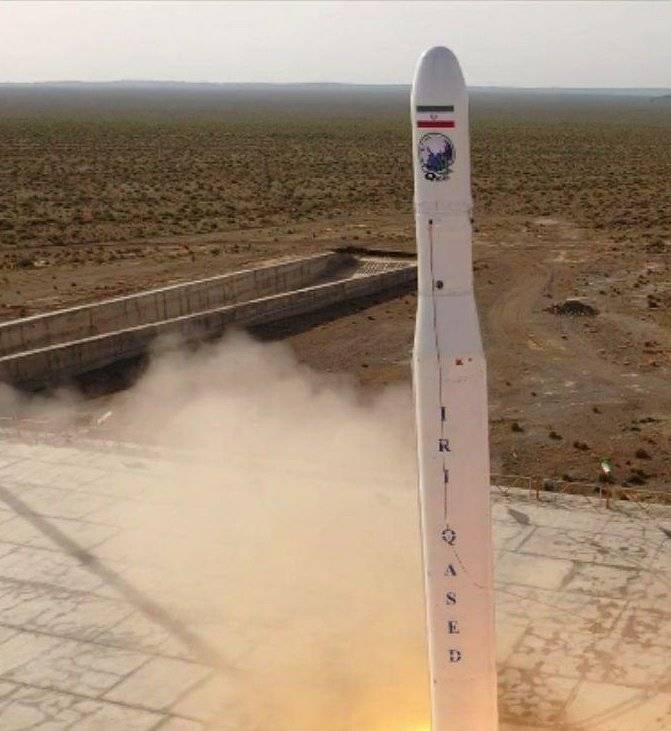 New ILV "Cased" at the start
Now about the rocket. The Cased rocket launcher itself is a two-stage, the first stage is liquid, and the second is solid fuel. There are different versions with the origin of the first stage. The first is the same first step from Safir-1B, but it has been finalized. Against this version, it says that the Kaseda stage is longer, and probably thicker than the Safirov one. The second version is a stage from the Simurg ILV. But also unlikely, it looks thicker, although it is not yet possible to determine the exact size. There is another option that they took the first step from the liquid Ghadr-F liquid-propellant ballistic missile - a fairly well-known missile, they had more than once hit the Hussites from Yemen in Saudi Arabia. True, the torch of the engines of the first stage of "Caseda" is different, perhaps this is an upgraded version. In principle, all these options are "related to each other." the engines and the steps themselves belong to the same rocket family.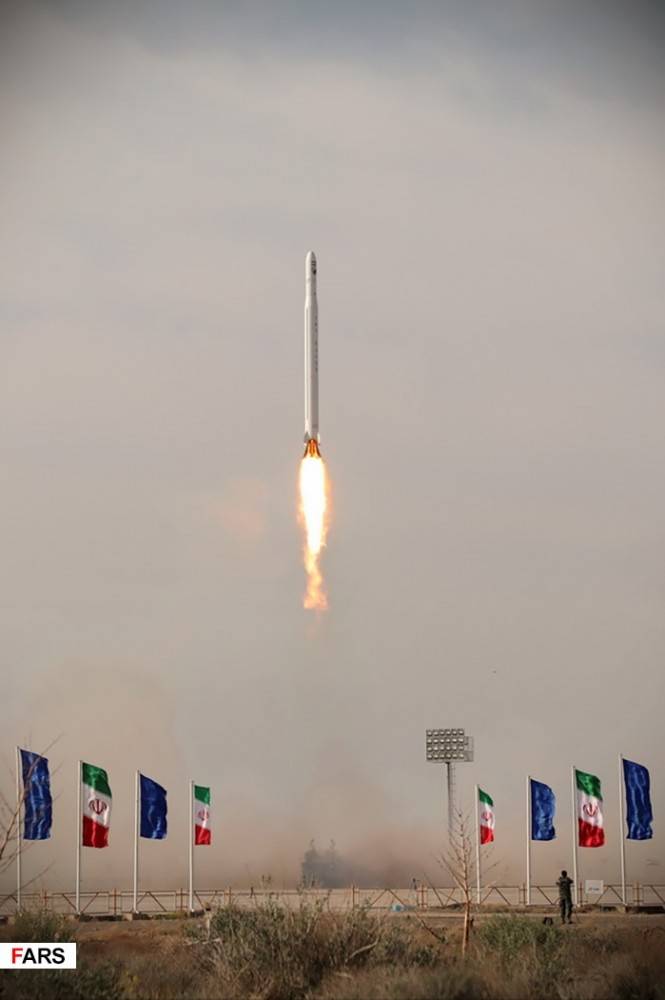 Launch of a new ILV with the new Nur satellite
The second stage is solid fuel and is built on the basis of the new Salman rejected nozzle solid-fuel engine, which was introduced in early February by the AKSIR along with the new Raad-500 tactical missile, the development of the Fateh series missiles, the modification of which, Fateh-313, is Iranian , along with others, attacked US bases in Iraq. "Salman" was declared as a "second-stage engine" for new combat missiles with enhanced capabilities and for launching loads into space. "And here he first successfully brought the payload. The carrier itself was launched from the launch pad, and the removal and installation on it were carried out an automobile transporter-installer, which, by the way, didn't step aside before the start.
The new solid-fuel engine of the second stage "Salman" at its presentation and at the fire test stand in the same center of Shahrud, where they launched a new rocket
Lieutenant General Hussein Salami, the commander in chief of the IRGC, after the successful launch of the "multifunctional military satellite," congratulated the people of the Islamic Republic of Iran on the success and stated: "This important achievement means strengthening the strategic intelligence capabilities of the Corps." That is, this spacecraft is undoubtedly a species scout.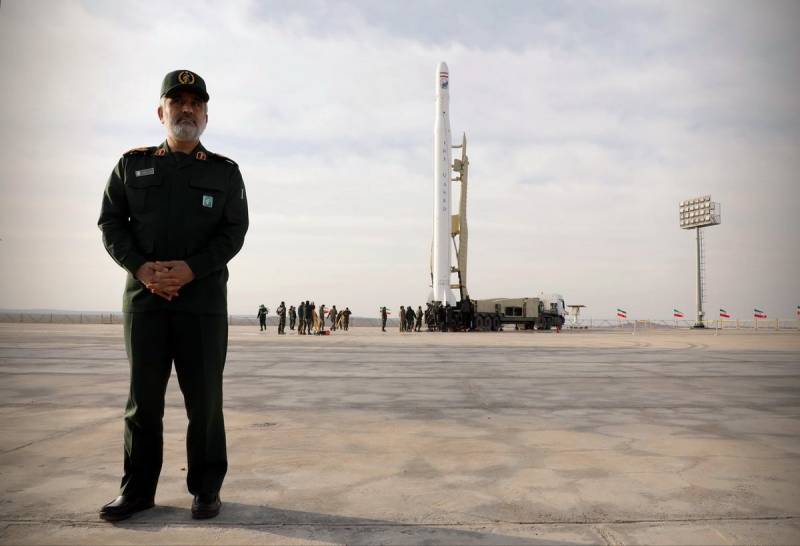 The commander of the ACS of the IRGC General Khadzhidzadeh against the background of the Kased rocket with the Nur satellite, the installation transporter and the launch pad
Rocket dualism
At every Iranian space launch, Americans like to declare a "violation of the sanctions regime" and the "creation of ICBMs under the guise of ILV launches." What do you want to note about this? There is some truth here. Yes, of course, all Iranian ILVs have military roots, like many ILVs in general, including the very first ones, on which mankind took its first steps into space: the royal "seven", the American "Atlas" and others. But a good, powerful, and reliable rocket launcher, even if when it was a ballistic missile or ICBM, was a poor military missile. Too much the requirements for them differ and, over time, diverge further and further from each other. ICBMs should be ready for immediate launch within seconds, more stringent are the requirements to reduce the active portion of the trajectory, survival and other "camel bells and whistles that are unnecessary in the zoo" (from a well-known joke). But on the other hand, their load is much more modest than that of the ILV of the middle and heavy class. Although at the same time the military ICBMs deducted from the Armed Forces may well be good light carriers, there are many examples of this. Or their components can become parts of good carriers.
But the Iranians "fighting" and "space" branch almost did not go far from each other. And, of course, it is possible to imagine, instead of a satellite, as a load, say, a guided warhead, which many Iranian BRMD, BRRS and OTR are now equipped with. Of course, it will have to be redone for other atmospheric entry speeds and more. And a nuclear charge is possible if it were. And this second stage is just as suitable for a military missile, and it is being created for it, although there is probably still no new first stage for the new AKC IRGC missile, But what prevents Iran from conducting military missile tests? They can do this anyway, and there are hardly any more sanctions than there are. But the ICBMs from "Caseda" obviously will not work out - not that mass, not those opportunities, so this is also, in general, the BRSD. Just more long-range. Iran officially declares its military missiles as having a range of not more than 2000 km - they took this self-restraint voluntarily in due time to show their peacefulness. Like, our goal is Israel and US bases in the region, but we don't care about Europe and even our missiles do not reach there. Well, they can fly to Bulgaria or Greece with such a range, but do key EU countries really care about them? It's another matter that many Iranian infantry fighting systems are capable of flying over 3000 km and even more, but launches at such ranges are not conducted. But they still need to be worked out, so they use combat stages in the space program.
But a combat missile is better to be either fully solid fuel or liquid, but with encapsulated tanks, and launching is desirable from a transport and launch container and not from the launch pad. But Iranian rocketers have not yet grown up to all these tricks - they have products that meet only part of these conditions.
In any case, for the Iranian space program, the launch of a new small spacecraft on a new rocket, of course, is a considerable success, which, of course, does not look against the background of the great space powers. But in general, of course, the Iranians are well done, despite the difficult situation with coronavirus in their country (which they are experiencing better than the "advanced" EU countries), they are also working on space and military programs. Iran of Russia, at a minimum, is partly allied and certainly friendly, albeit not in all converging interests, so you can congratulate them on this.