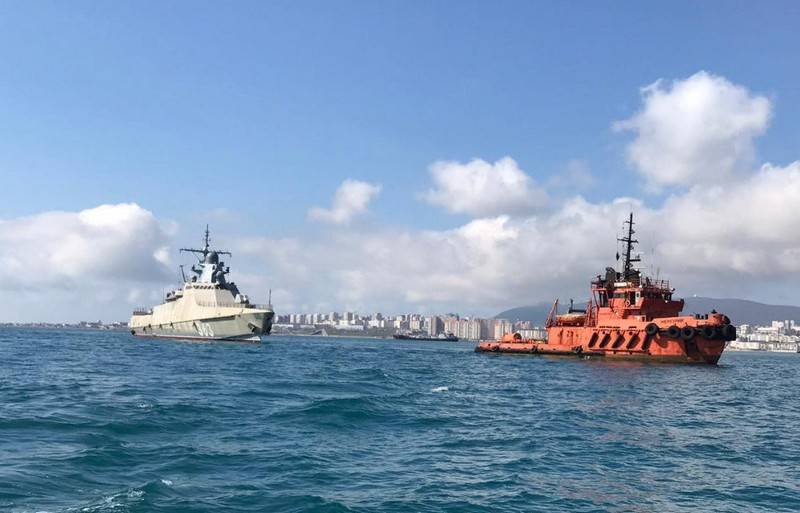 The third patrol ship (corvette) of project 22160 "Pavel Derzhavin" was towed from Kerch to Novorossiysk. This was reported by the portal Korabli.eu with reference to the press service of the Federal State Budgetary Institution "Marine Service".
According to the report, the sea tugboat Mercury of the Azov-Black Sea branch of the FSBI Morspasluzhba at the shipyard of the Zaliv shipyard in Kerch took in towing a patrol ship (corvette) of project 22160 Pavel Derzhavin, after which it towed it from Kerch to Novorossiysk, where transferred to auxiliary vessels of the Black Sea
fleet
. The tow was normal.
"Mercury" took the tow of the corvette project 22160 with tail number 363 at the pier of the shipyard "Bay". Having successfully passed the arch of the Kerch bridge, the tug brought the ship to the Black Sea and delivered to the port area of ​​Novorossiysk
- said in a statement.
The patrol ship "Pavel Derzhavin" is the third ship of project 22160 and the second serial in a series of five units. The construction contract was signed in 2014, the entire series is intended for the Black Sea Fleet.
This corvette is the first to be built at the Kerch Shipyard "Bay". Laid down on February 18, 2016, launched on February 21, 2019. The transfer of the ship to the customer is scheduled for this year.
The lead ship and the first serial "Vasily Bykov" and "Dmitry Rogachev" are already serving in the Black Sea Fleet.
Recall that the construction of the entire series of these ships was delayed due to import substitution of the power plant. All ships of the series, except for the lead Vasily Bykov, on which the German MAN diesel gear units are installed, will receive diesel gear units manufactured by the Kolomensky Zavod.