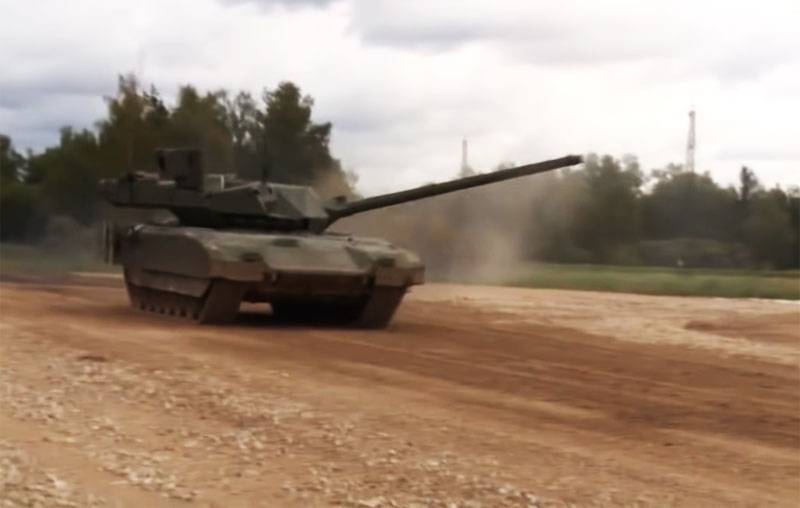 A statement by the head of the Russian Ministry of Industry and Trade, Denis Manturov, that the latest
Tanks
T-14 "Armata" were tested in combat conditions in Syria. Recall that Manturov, reporting on such "Syrian tests" of "Armata", added that the tests will form the final appearance of the new generation tank.
So, in the Greek press they consider the news from Manturov about the tests of the T-14 Armata tank in Syria "a great surprise for the West and Turkey."
Browser Andreas Muntsurulias writes that adding intrigue to the current lack of images of "Almaty" in Syria, as well as the lack of data as to whether these tanks left the territory of the ATS or still remain there.
The Greek publication Pentapostagma believes that Russia, by announcing the tests of the T-14 Armata in Syria, "sends a signal to NATO and specifically to the Turkish president so that he does not have illusions about the great Mediterranean war."
A few comments from users of the mentioned Greek media:

This is all Russian propaganda. There is no way to use it (the tank) there without being seen by anyone. This, most likely, only portends its use, being a warning to NATO.
We could order several such armored vehicles, but our authorities will block this, without giving such an opportunity.
Denis Manturov's message is being discussed in the Indian press. Indian media reports on the application for testing the T-14 Armata in Syria receive tens of thousands of retweets on social networks and diverge on blogs.
The Thai press reported on the tests of the T-14 Armata in the Syrian Arab Republic, which also causes considerable interest among military experts and ordinary users in Southeast Asia.