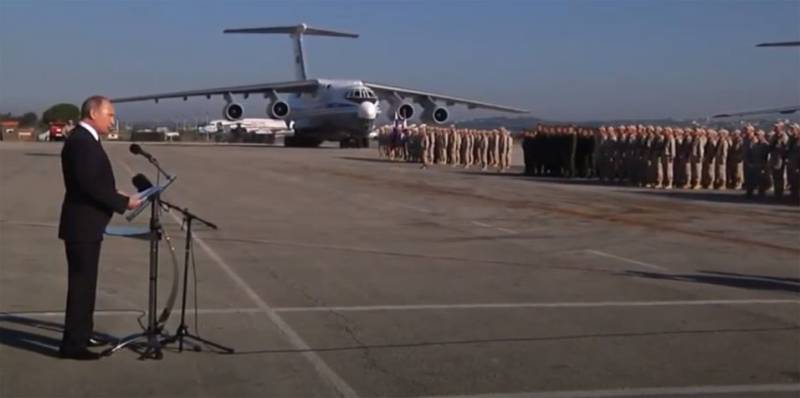 In the British edition of The Independent appeared material that is dedicated to the Russian presence in Syria. The author of the material, Robert Fisk, announced that he had received a letter from a reader who was "very excited about the events in the Middle East." At the same time, with a single phrase from this letter, it becomes clear what purpose the letter itself sets and the publication in the British press.
The phrase reads as follows:
Trump and others do not pay any attention to the suffering of people there. And this means tacit agreement with what is happening, even indulgence.
Commenting on the phrase from the letter, the observer Fisk states that in fact Trump is aware of this, of course, but he is engaged in connivance.
Further, the author considers the Russian presence in the Middle East, mentioning Libya and Syria. According to Robert Fisk, Moscow "provided Assad with the opportunity to remain in power." But military success is one thing, economics is another.
According to the British journalist, in order for Assad to retain his post in power, he needs to save the Syrian economy, which has fallen into dire straits. This situation has only recently worsened. People are getting poorer. Need to build and rebuild. But who will do this under such conditions?
The author of the article writes that Assad's allies, including Iran, are experiencing obvious economic problems and are unlikely to be able to maintain the Syrian economy at an acceptable level.
From the article:
And now the question arises: can Russia save the economy of Syria in the same way as it saved the Syrian army? After all, it is one thing to deploy your military aircraft, another to allocate funds in a destroyed country, invest rubles in it, even if there is a very loyal regime there.
According to Fisk, this is today the main issue on the agenda of the discussion between Putin and Assad.
Thus, the author of the material emphasizes that for the West, investing in the economy depends primarily on the political situation - the presence of a "loyal regime".
From the material:
The most important thing now is the economic survival of Syria, not the bombing of its enemies.
This article reads the undisguised malevolence of a British author who frankly hopes now that problems in the economy of the ATS can help "friends of Syria" complete what was started in this country several years ago.