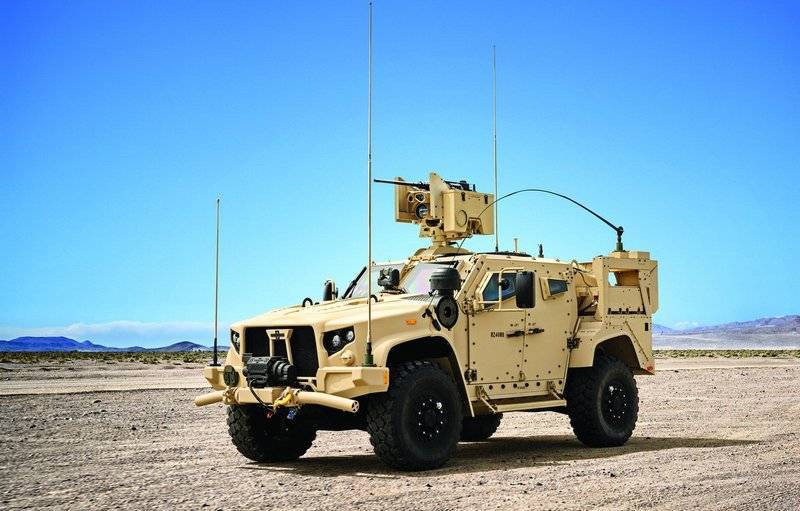 JLTV 4x4 in the M1278A1 Heavy Guns Carrier modification with the M153 CROWS combat module
Lithuania has entered into a contract for the supply of Protector Common Remote Weapon Stations (CROWS) remotely-controlled combat modules for installation on the US Light 4x4 Combined Light Tactical Vehicle (JLTV) American armored vehicles acquired by the Ministry of Defense. The number of combat modules is not called.
This contract is part of a larger contract between the Norwegian company Kongsberg and the United States for the supply of Protector CROWS combat modules for the Pentagon, which, in turn, will supply part of the BM acquired to Lithuania through the mechanism of the American program of intergovernmental foreign military sales Foreign Military Sales (FMS) together with SUVs JLTV .
The contract for the supply of 200 American armored SUVs JLTV (Joint Light Tactical Vehicle) to Lithuania was announced in November last year. The contract value amounted to 145 million euros, the first armored cars should be delivered to Lithuania by the end of 2021, and the last - by 2024. The equipment will go into service with the Ground Forces and Special Forces of the Republic.
At the same time, it was clarified that under the agreement, the Americans gave Lithuania an option for another 300 SUVs, because it was precisely 500 US vehicles that they tried to sell to the Lithuanian military initially, although such an amount was excessive for the Lithuanian army.
The vehicles planned for delivery to Lithuania are equipped with M153 Common Remote Weapon Stations (CROWS) remotely controlled combat modules with 12,7 mm M2 QCB machine guns and round-the-clock M230 TAC-FLIR sighting systems. The agreement provides for the supply of spare parts for armored vehicles and training of personnel of the Lithuanian army.