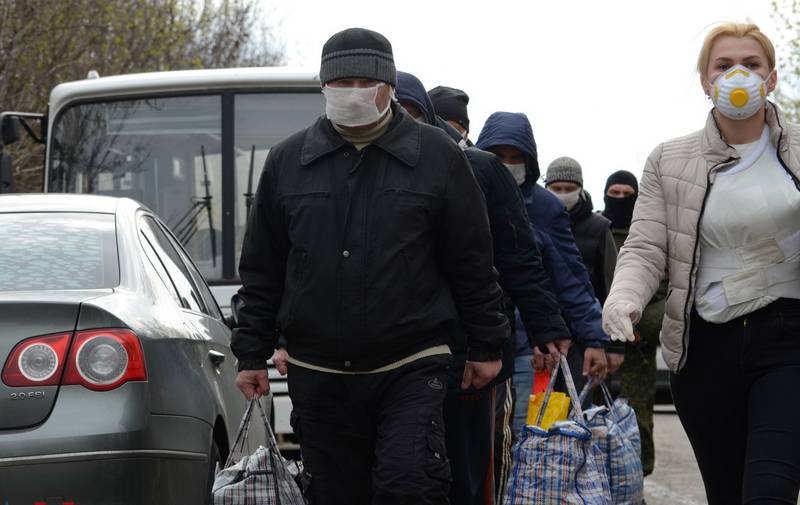 Donetsk People's Republic and Ukraine held the first prisoner exchange this year. This was reported by the representative of the DPR in the Minsk subgroup on humanitarian issues, the Commissioner for Human Rights in the Republic of Daria Morozova.
According to information provided by Morozova, Donetsk received 10 people during the exchange of prisoners, nine were transferred to Kiev. Initially, 11 people were listed, but one of the prisoners refused to participate in the exchange and return to the DPR. The last exchange between the parties took place on December 29 of last year.
We were able to take 10 people from Ukraine, 9 people were transferred to her. For our part, we carried out the entire procedural cleaning of all persons transferred to Ukraine
- said Morozova.
The exchange took place in the area of ​​the Gorlovka checkpoint (on the Ukrainian side - the Mayorskoye checkpoint) on the demarcation line of the parties. The procedure was supervised by representatives of the OSCE; no incidents were recorded.
It is noted that in connection with the spread of coronavirus infection, the exchange was carried out in compliance with the necessary preventive measures. All exchangers underwent a mandatory medical examination, after which they will be placed in a 14-day compulsory quarantine.
All who have been exchanged will be quarantined for 14 days. After that, those who do not have housing in the DPR will be provided at the long-term residence
- Morozova said, adding that all those released will be provided with food, personal hygiene items and receive financial assistance.