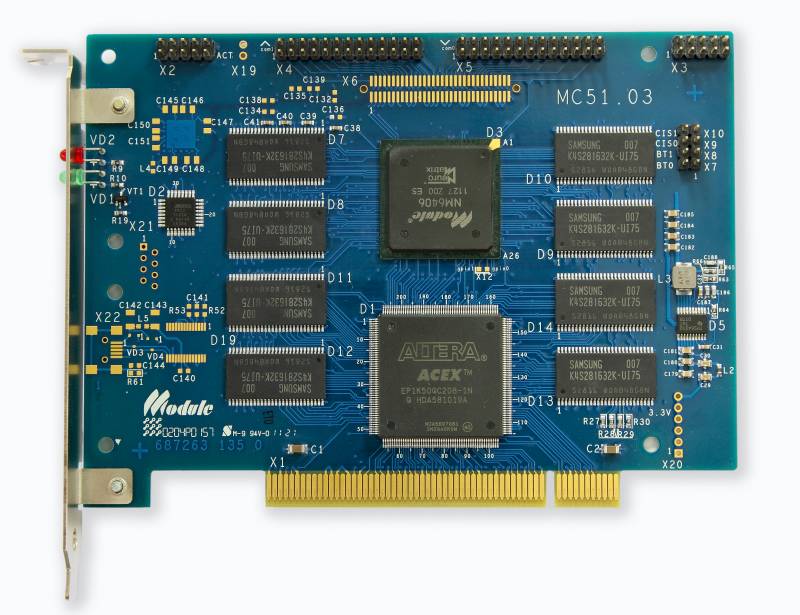 Printed circuit board MC51.03 NeuroMatrix developed by STC "Module". Photo from Wikipedia
Talking about the successes and achievements of the domestic branch of creating microelectronic devices, some people are only puzzled, if not openly neglected: "You might think, there is something to talk about!" Imagine, despite a considerable number of rather serious problems in this area, it would be completely incorrect for Russia to speak of a "hopeless lag" behind the world's leading developers and manufacturers of microelectronics and a "complete lack of prospects" in this area.
Typically, such statements are made, as a rule, by people who are far from being professionals in this very specific and requiring special knowledge issue. Their "awareness" is often based on "tops" snatched from popular articles on this topic (such as comparing the topological standards of manufactured products in nanometers) and a deep conviction that "bast" Russia is not able to create anything more difficult than a cast iron.
At the same time, the moment, for example, is overlooked that the first "smart machine", which could justifiably be classified as a computer in continental Europe, was created in the USSR in 1950. Yes, even under Comrade Stalin ... And after 3 years in Moscow, the production of the first serial Strela computer was already mastered. However, that's all
история
. However, the roots of the current state of the domestic microelectronic industry lie in it, both its successes and weaknesses.
It is no secret to anyone that in the USSR the main customer of all high-tech developments was the military-industrial complex. In fact, in today's Russia, little has changed in this regard. No wonder: few can compare with having more than solid defense industry financing in the ability to make the colossal investments necessary for the development of this far from cheap branch of science and production. As a result, there is a very serious bias towards, let's say, very specific designs and products. Alas, the "civilian" consumer electronics manufactured in the country is based, as a rule, on imported components.
But in the creation of microprocessors and similar things that meet the requirements of "it doesn't drown in water, it doesn't burn in fire", as well as withstanding ultra-high doses of radiation or, say, ultra-low temperatures, we have almost no equal. To some extent, the Americans can boast of similar developments, but the Chinese comrades, who have flooded the world with their smartphones, are not yet able to reach the super-strength and super-reliability of our microelectronics.
In Russia, of course, there are not many enterprises of this profile, as in most countries of the same Southeast Asia, however, such flagships of microelectronic production, as the domestic Angstrem and Mikron, are among the most powerful Eastern European manufacturers of these products. As for the second of these enterprises, at least a fifth of its products are in high demand abroad and are exported.
It should be noted that our alleged backwardness from Western and other countries in the field of microelectronics today is more an exaggeration than a reality. Yes, until about 2010, the backlog was estimated at 20, or even all 25 years. In the future, given the rapid growth of the industry, which outstripped the general pace of the rise of Russian industry in a number of periods, this gap, according to experts, was reduced to 5 years. Anyway, it's insulting, but it has progressed quite well. Again, there is room to grow ...
According to experts, Russia is hardly worth striving to "catch up" or "overtake" other countries in an area that is not now and is unlikely to be its strong point - the mass production of microelectronic components for, so to say, consumer goods. It is better to concentrate in those areas where we have traditionally been, if not the best, then certainly not the worst. The production of components for space technology, industrial automation, transport and energy - these are the areas, developing which our country will be able to both provide its own truly vital needs and take its rightful place in the world market.
However, no one calls so completely to abandon the "civilian" segment. Yes, this, in fact, does not happen. A concrete example is that literally last year, the Bryansk company Silicon EL launched mass production of microcircuits and transistors designed for such notebooks, digital cameras and smartphones that we all demand. They promise to do no worse than Mitsubishi and Fuji, but we'll see there. In the end, let's not forget that the country has adopted the state "Strategy for the development of the electronic industry of the Russian Federation for the period until 2030". You look, and reduce the five-year gap to zero. Zero to zero ...