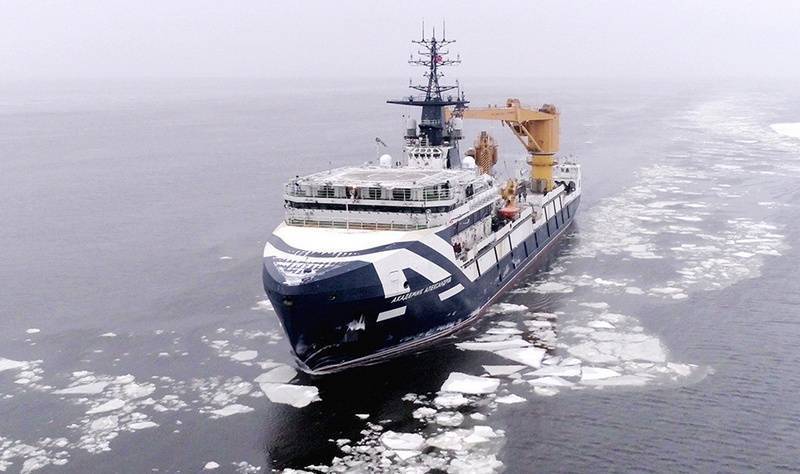 Oceanographic research vessel of the project 20183 "Academician Aleksandrov", built at the Zvezdochka ship repair center, was transferred to the Russian Navy. The ceremony was held in Severodvinsk in early March 2020, the bmpd blog reports citing the press service of SMM CJSC (St. Petersburg), which installed crane equipment on the vessel.
Note that the open sources of information on the commissioning of the OIC Akademik Aleksandrov did not go through, although it was previously reported that the vessel was completely ready and its transfer to the Russian Navy will take place at the end of February 2020. According to several sources, the acceptance certificate was signed on January 23. It is possible that the ship was transferred
the fleet
without extra pump due to coronavirus.
The vessel Akademik Alexandrov was laid in the center of the ship repair Zvezdochka in December 2012 of the year and is the third in a series of four special purpose vessels of the new generation designed on the basis of the project of an auxiliary vessel of the 20180 project. Vessel displacement - 5400 tons, speed - 14 knots, crew - 65 people. On the "Akademik Aleksandrov" a landing pad is provided for one Ka-27 multi-purpose helicopter. The Arc-5 ice class of the ship allows independent navigation in annual Arctic ice with a thickness of up to 0,8 m in winter-spring navigation and up to 1 m in summer-autumn. Navigation area is not limited.
"Academician Alexandrov" is classified as an oceanographic research vessel and is described as "a multipurpose ice-class multipurpose vessel designed for research and scientific work on the shelf of the Arctic seas, ensuring the operation of marine Arctic technology, rescue operations in the Arctic."
The ship was named in honor of Anatoly Petrovich Alexandrov - an outstanding domestic physicist, one of the fathers of the domestic nuclear submarine fleet.