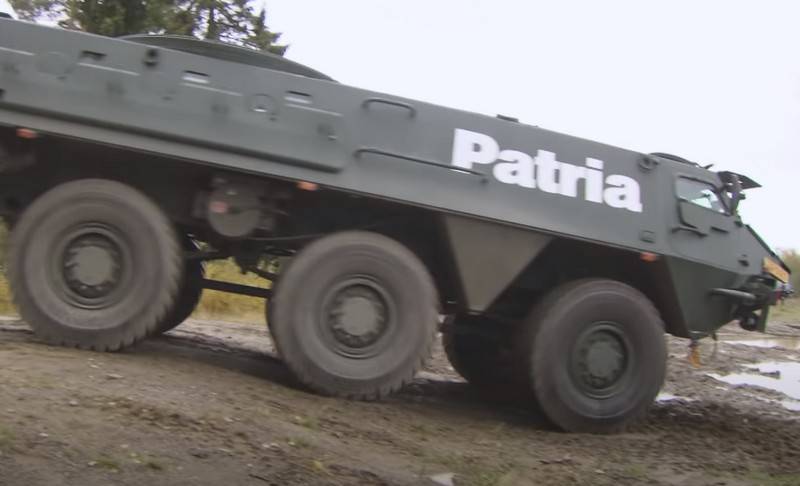 Estonia joins the Latvian-Finnish project to develop a promising wheeled armored platform. The technical agreement on R&D was signed by Christian Prikk, Secretary General of the Ministry of Defense. This was reported by the press service of the Estonian military department.
The Estonian Ministry of Defense specified that the parties had already agreed on general technical requirements for the armored vehicles being developed and on the development of a prototype, the first results are planned to be achieved this year. It is reported that Estonia's need in the next ten years could amount to more than 100 new armored personnel carriers, which should replace almost 140 armored vehicles in the Estonian army.
Recall that Latvia and Finland in January 2020 signed an agreement on the development of a new armored personnel carrier for the armed forces of both countries.
Project details have not yet been announced, the developers will take the Finnish Patria 6 × 6 armored personnel carrier, which has been produced in the country since 2018, as the basis. The armored personnel carrier is 7,5 meters long, 2,9 meters wide, and 2,5 meters high. The maximum combat weight of the car is 24 tons. An armored personnel carrier can carry goods weighing up to 8,5 tons. The maximum speed is up to 100 kilometers per hour, range - 700 kilometers.
A joint project on the development of armored vehicles provides for the creation of several types of combat vehicles for the armed forces of the countries participating in the development. According to the plans of the developers, new armored vehicles will begin to enter the Finnish and Latvian armies already in 2021. Both military departments count on the supply of new armored personnel carriers over the next ten years after 2021.