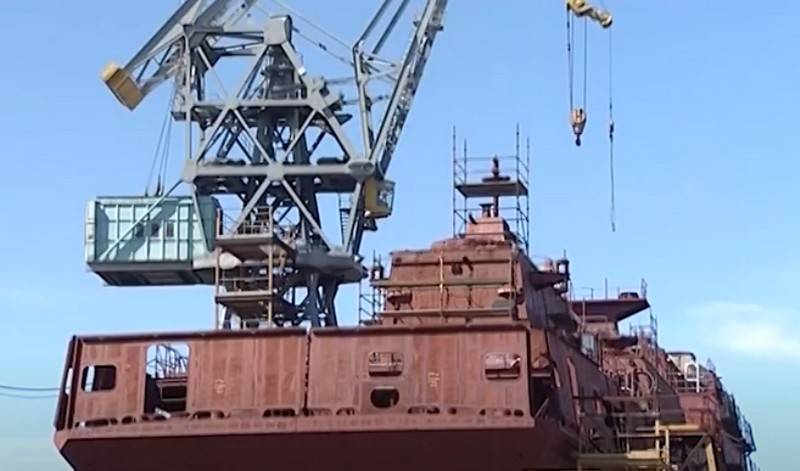 The construction of two Russian universal landing ships (UDC) at the Zaliv plant in Kerch will cost about 100 billion rubles. This was reported by TASS with reference to a source in the military-industrial complex.
According to the source, the contract for the construction of two UDCs will be signed at the end of April this year, and the laying ceremony will be held in early May, it should be timed to coincide with the 75th anniversary of the Victory in World War II. For our part, we note that the bookmark date may be shifted due to the situation with coronavirus.
The contract for the construction of ships should be signed in the third decade of April. The cost of helicopter carriers will be slightly less than 100 billion rubles
- cites the words of the source
news
agency.
It was previously reported that two UDCs will be laid at the Gulf Shipyard in May 2020. But the data on the deadlines vary: some sources say that the lead ship will surrender
the fleet
in 2026, and the second - in 2027, others that the parent - until 2027, and the second - until 2030. Although there is no official confirmation of either of these data.
Later, information appeared that the Navy had finally decided on the parameters of the ships being laid. According to TASS, citing sources in the shipbuilding industry, ships will receive a displacement of 25 thousand tons. Initially, the displacement of ships should not exceed 15 thousand tons, and the number of helicopters on board - no more than ten. Also, the names of the pledged ships became known - Sevastopol and Vladivostok - these names were previously intended for helicopter carriers of the Mistral type, ordered from France. This decision was made by the General Staff of the Russian Navy.
It is planned that the UDC will carry 20 heavy helicopters and will be able to carry up to two battalions of marines with a total number of up to 900 people.