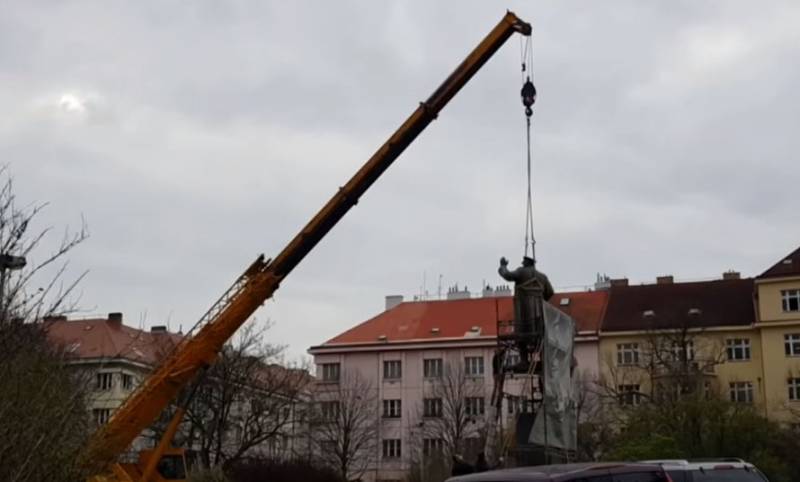 In the Czech Republic, they reacted to the statements of the Russian Ministry of Defense about the transfer of the monument demolished the other day in Prague to Marshal Ivan Konev. Recall that the decision to demolish the monument was made by the head of one of the Prague municipalities. The sculpture of the marshal-liberator of Prague from the Nazis was dismantled, and the photo of the sculpture on the ground with a noose around his neck circled around social networks and the media.
Sergei Shoigu sent a letter to his Czech counterpart Lubomyr Metnar, noting the need to stop the abuse of the monument to the celebrated Marshal. Shoigu proposed transferring the monument to Ivan Konev of the Russian Federation.
The letter regrets the fact that the demolition of the monument took place on the eve of the celebration of the 75th anniversary of the Victory and that this act is actually an attempt to obliterate the operation that ultimately freed millions of Czech citizens from the Nazi yoke.
The reaction of the Czech Ministry of Defense to the letter received from Sergei Šoigu:
We will prepare an answer to it (letter). But this monument is not ours, and it is for this reason that we will not be able to transfer it to Russia. How can we convey that which is not ours. The monument is still the property of Prague-6, and we are not talking about a military burial.
For your information:
Marshal Ivan Stepanovich Konev (1897-1973) - a native of the village of Lodeyno, Vologda province (today it is the Podosinovsky district of the Kirov region). In addition to a large number of Soviet awards for military merits, including brilliant operations, he had the title of Hero of Czechoslovakia. Apparently, in the area of ​​Prague-6 they decided to forget about it.