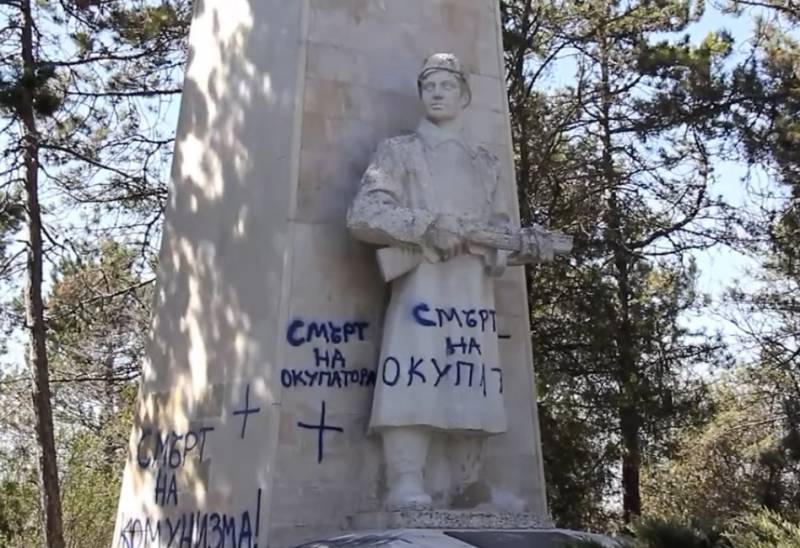 In Dobrich (Bulgaria), unknown vandals desecrated a monument to the Red Army soldiers who liberated this country from the Nazis during the Second World War.
This was reported by the Internet portal "DobrichOnline." In addition, a plot dedicated to the incident appeared on the local television channel.
Monument to the Liberators is located in the city park. Unknown attackers applied the words "Death to the Invaders" and "Death to Alesham" with blue paint.
The embassy of the Russian Federation through a social network expressed its indignation at the act of vandalism, expressing the hope that the city leadership will take measures to capture and punish the perpetrators. Diplomats emphasized the outrageous fact that this crime was committed on the eve of the anniversary of Victory in the Great Patriotic War.
Dobrich's city officials said law enforcement agencies are looking for criminals in pre-trial proceedings.
On the mass grave of the fallen Soviet soldiers in 1949, the Bulgarians erected this monument in gratitude for their liberation from the Nazi invaders. The original version was three-meter, but then in the late 50s it was transported and installed in another village in Bulgaria. And in Dobrich, on the site of the former monument, a seven-meter sculpture of a soldier was erected against the background of a 14-meter pylon.