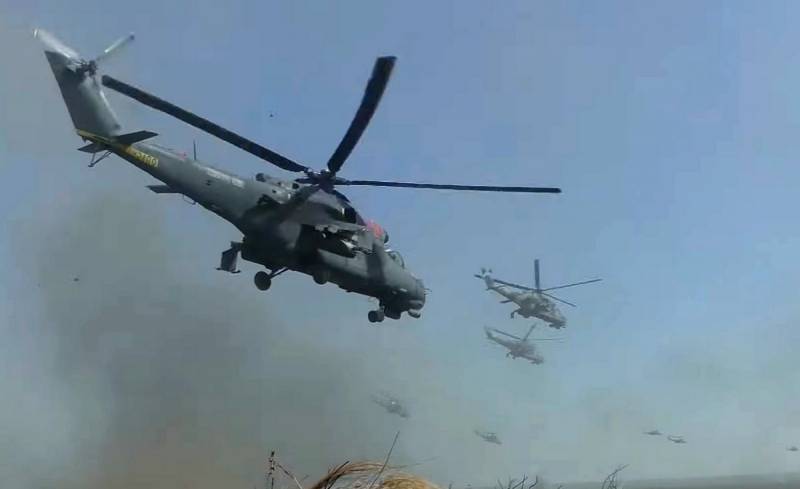 Pilots from the 714th anti-tank squadron of the 98th air brigade of the Serbian Armed Forces tested in the Mi-35 case. On April 5, the helicopter crew conducted firing at a firing range at ground targets that mimic the armored vehicles of a conditional enemy. The local military was pleased with the results.
As the publication Evening
news
", The head of the military department, Alexander Vulin, who observed the fulfillment of the combat mission, said that the most modern equipment in the hands of Serbian pilots showed their readiness to defend the country without" any compromises ".
All members of the Serbian Armed Forces are doing everything possible and are able to maintain the independence of our country. All our combat teams and all our fighting techniques are at a master level.
- noted the Minister.
As a means of destruction, the Ataka guided missiles and the 23-mm GSh-23L cannon were used. They were highly praised by the Serbian military.
It is a wonderful feeling to work with such a rocket, even in difficult weather conditions, as they were today. But it turned out that the rocket meets all our requirements
- explained Lt. Col. Dobrosava Drndarevich, commander of the 714th squadron.
As the Serbian publication explained to its readers, the Mi-35s were put into operation at the end of last year. At the same time, the supplier of rotorcraft was not named.
The crews of Mi-35M helicopters from the 714th anti-tank helicopter squadron of the 98th air force and air defense of Serbia destroyed the conditional enemy's positions with Ataka-M anti-tank guided missiles (ATGMs) and the GSh-23L 23-mm gun at the Pasuljanske livade training ground . pic.twitter.com/cZuG5LCgnU

- SwankyStas (@StasSwanky) April 5, 2020