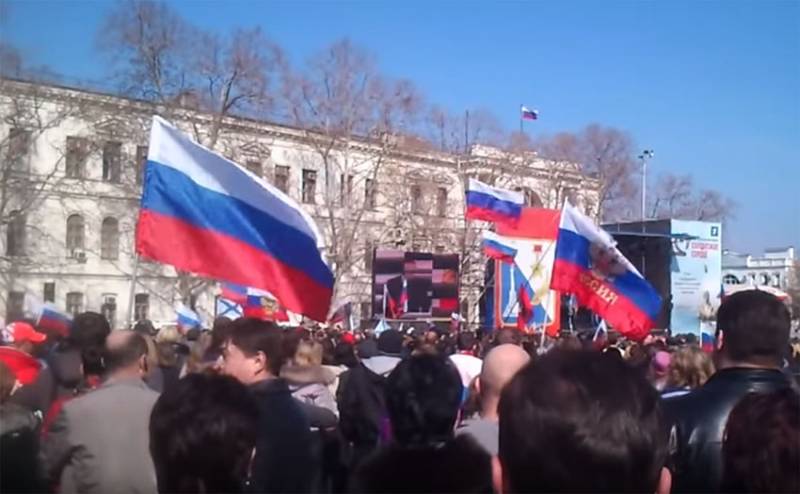 In the American publication on the subject of international relations, Foreign Affairs, material was released that managed to cause irritation in the nationalist circles of Ukraine. An article by John O'Laughlin, Gerard Tole, and Christine Bakke cites data from public opinion polls about the attitude of Crimean residents to life within the Russian Federation.
The authors write that "from the point of view of international law, the Crimean peninsula was annexed." At the same time, American journalists cite statistics according to which, even six years after the well-known events of March 2014, the vast majority of Crimeans express their support for their decision to reunite with Russia.
From the material:
As of December 2019, approval of the results of the referendum among Crimean residents amounted to 77% of the Ukrainian population and 84% of the Russian. As you can see, the level is still very high and has not changed much since 2014. Surprisingly, the level of support for joining Russia among the Crimean Tatar population increased from 21% in 2014 to 52% last year.
The authors recall a certain "hostility" of the Crimean Tatar population "in connection with the memory of Stalin's deportation". At the same time, it is noted that now the Crimean Tatars are "accustomed" to becoming Russians.
Following Western logic, the authors of Foreign Affairs write that in Crimea "there are many problems that are related to the violation of human rights and corruption." But we must pay tribute, honestly in the magazine they write that most Crimeans did not and do not consider the events of 2014 annexation, and today's life in Russia is "life in occupation".
From the article:
Most Crimean residents do not consider Russian power despots and strangers. On the contrary, they are happy that they live in Putin's Russia.
It is noted that the polls were conducted by representatives of Foreign Affairs.
It was the coverage of such information that caused a surge of negative emotions among Ukrainian nationalists, who continue to urge Kiev to "return Crimea to Ukraine."