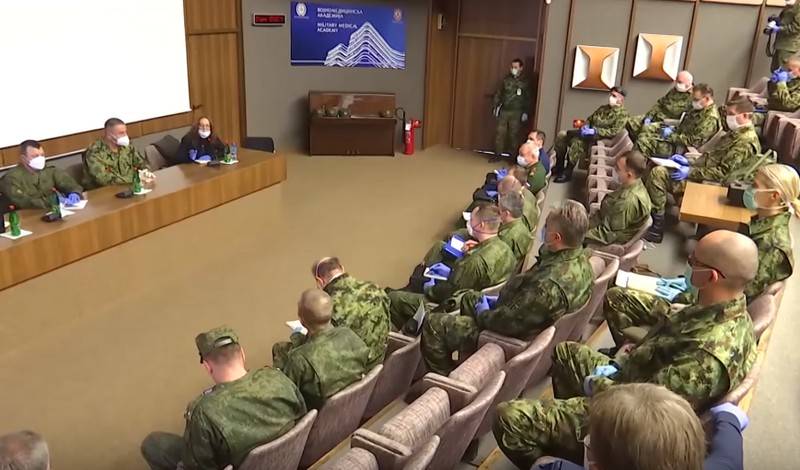 Russian military doctors who arrived in Serbia, in addition to providing assistance to infected coronavirus, will be involved in the training of Serbian colleagues. This was reported by the Russian Ministry of Defense.
The military department explained that medical teams will train Serbian physicians directly working with patients infected with coronavirus infection, and will also assist in organizing treatment and quarantine measures
We determined that we would share in 8 working groups that would go around hospitals and give advice and share experiences. An exact work plan for the next few days is being discussed right now between experts from the Russian Federation and experts from the Republic of Serbia
- said the State Secretary of the Ministry of Health of the Republic of Serbia, Berislav Tekic.
It is also reported that the areas of work of Russian specialists are finally determined. According to reports, RCHBZ specialists with one medical team will go to the military town of Bachka Topolo, where Serb military personnel in contact with the infected coronavirus are isolated. Two more medical teams will continue to work in Belgrade, where they will be joined by two groups of RCHB, sent to the Obstetrics and Gynecology Clinic "People's Front" and the Dragin Mishevich Medical Clinical Center. The remaining five medical teams will go to the cities of Nish, Kikinda, Valevo, Chupria.
Recall that the Russian Ministry of Defense 11 flights of military transport aircraft of the Russian Aerospace Forces sent 87 military doctors, specialist virologists of the Russian Chemical Forces Safety Bureau, as well as special medical equipment, protective equipment and 16 units of military equipment to Serbia.