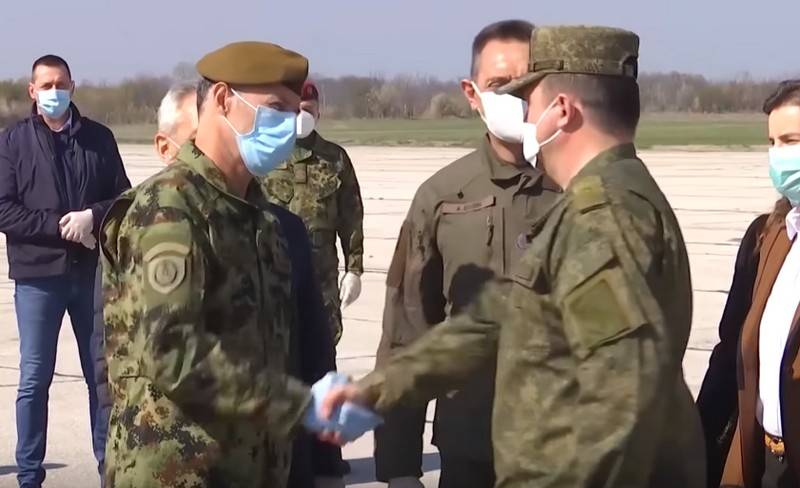 The Russian Ministry of Defense has completed the transfer to Serbia of military specialists, the necessary equipment and technology to assist Serbia in the fight against the spread of coronavirus infection. This was reported by the press service of the military department.
As explained by the Ministry of Defense, the military transport planes of the Russian Aerospace Forces made 11 flights from the Chkalovsky airfield in the Moscow Region to the Bataynitsa airfield 20 km from Belgrade. In total, 87 military physicians, specialist virologists from the Russian Chechen Republican Chemical Bacteria Plant, as well as special medical equipment, protective equipment, and 16 units of military equipment were delivered to Serbia.
It is reported that today, April 4, at the base of the military medical academy of the Ministry of Defense of Serbia, a joint Russian-Serbian meeting will be held at which objects for the work of Russian specialists and arriving equipment will be determined. After clarification and coordination of all areas, Russian military specialists will begin to provide assistance.
Earlier, during a preliminary meeting held at the Bataynitsa military base, preliminary areas for the application of Russian aid were outlined. It was proposed to send Russian doctors to Belgrade, Chupria, Valevo, Novi Sad, Nis, Kragujevac, Kikinda, where the epidemiological situation is most difficult.
Another object where the use of Russian experts of the Russian Chemical Forces is planned is a military camp in the city of Bachka Pola, where cases of the coronavirus of Serbian military personnel have been detected. There will be a disinfection of premises and territory.