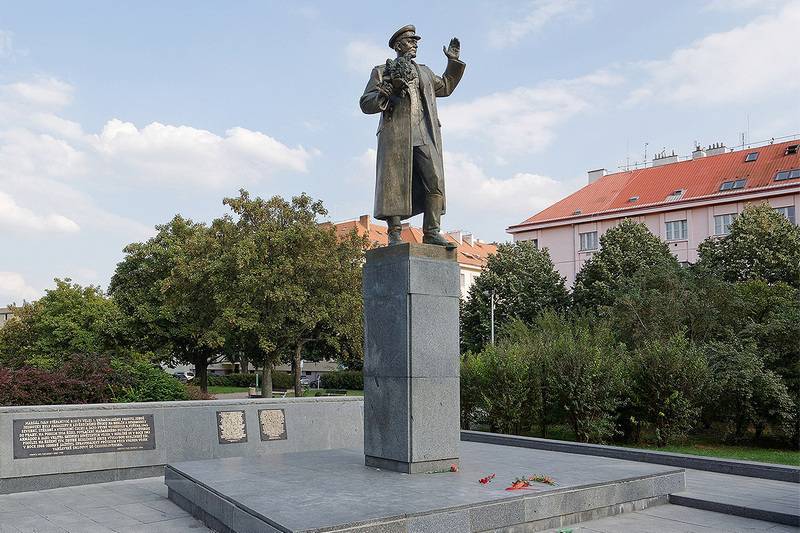 In Prague, a monument was demolished to Soviet Marshal Ivan Konev, thereby implementing the decree of September 12, 2019 on the dismantling of the monument. This was announced by the head of the Prague-6 district, Ondřej Kolář, who initiated the demolition of the monument.
Today's removal of the bronze monument to Marshal Konev from the pedestal on Interbrigade Square is the last tone in the study that broke out in the area in 1980 (the year the monument was erected - approx.). His echo will continue to resonate in a museum dedicated to the events of the XNUMXth century in Czechoslovakia and thus will contribute to an objective explanation of our recent
stories
- said the headman.
Demolition of the monument was confirmed by a member of the leadership of the municipality of Prague, Gana Marvanova, who stated that the aforementioned museum had entered into a long-term agreement with the authorities of the Prague-6 district on transferring the monument to Marshal Konev in his collection.
Recall that the decision to transfer the monument to Marshal Konev in one of the museums in Prague and to install in its place "a new monument to the heroes of the liberators of Prague in 1945" was made in September last year. Prior to this, the monument was desecrated more than once, dousing it with paint.
At the end of November last year, the head of the Prague-6 district, where a monument to the Soviet Marshal was erected, said that a monument to General Vlasov might appear in its place.
Ondřej Kolář, who is the head of the district, explains his intention to erect a monument to Vlasov by the fact that the "Vlasovites" supposedly liberated Prague from the fascist invaders, and not the Soviet army. The claims to Marshal Konev at the head of the district are that in 1968, the Soviet military leader "personally supported the conduct of information intelligence before the invasion of the Warsaw Pact troops in Czechoslovakia." By the way, this is reflected on the plaque on the monument to the Marshal in Prague.
Ondřej Kolář also claims that the capital of Czechoslovakia in 1945 allegedly was able to get rid of the fascist invaders with the help of the "Vlasovites". The Soviet tankers who arrived in Prague "have already entered the liberated city."