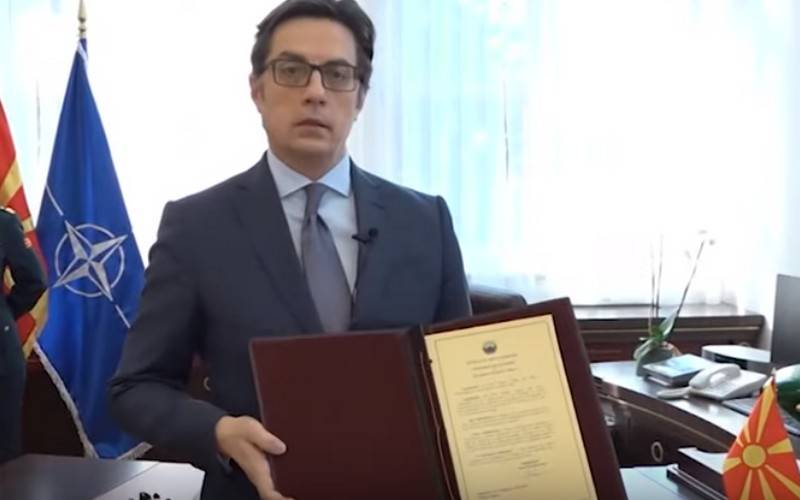 The North Atlantic Alliance has replenished with another member. On March 27, North Macedonia officially became the 30th NATO member country. This was reported by the US State Department.
The U.S. State Department issued a written statement by U.S. Secretary of State Mike Pompeo stating that the U.S. has received a document on North Macedonia's accession to NATO. The official flag-raising ceremony for the new alliance member at NATO headquarters in Brussels will be held March 30 this year.
On March 27, 2020, the United States, as the depository of the treaty, received a document on the accession of the Republic of Northern Macedonia to the North Atlantic Treaty, which made Northern Macedonia the 30th NATO ally. On March 30, the flag of Northern Macedonia for the first time flies above NATO headquarters
- declared Pompeo.
Previously, it was assumed that after ratification of the protocol on the entry of Northern Macedonia into the alliance by all NATO members, this will be announced at a meeting of the North Atlantic Council, which is due in April. However, in connection with the pandemic of the new coronavirus, the alliance does not exclude that this meeting will not take place, as states are crossing their borders.
Recall that the protocol on the accession of Northern Macedonia to NATO was signed at the headquarters of the alliance in Brussels on February 6, 2019.
More than 10 years ago, NATO announced its readiness to accept Macedonia into the alliance, however, due to the conflict between Athens and Skopje, which erupted after the collapse of Yugoslavia, Greece impeded the process of Macedonia joining NATO and the European Union, demanding a name change for the republic.
On June 17, 2018, the heads of the foreign affairs agencies of Greece and Macedonia signed an agreement on changing the name of the country to "Republic of Northern Macedonia". On January 11, 2019, the Parliament of Macedonia adopted a bill to amend the constitution of its country accordingly. On January 25, the Greek parliament supported the change of name of Macedonia, putting an end to the 27-year-old conflict.