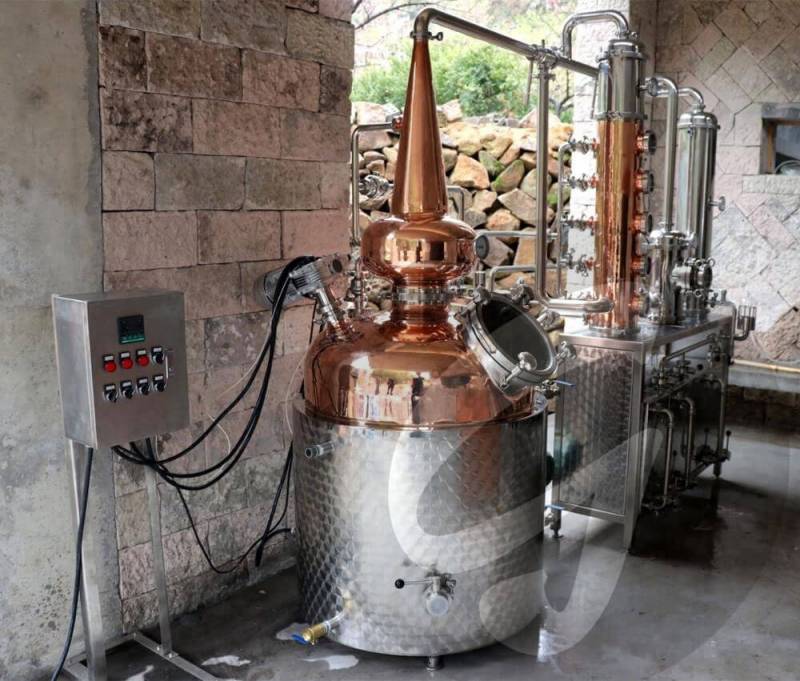 The distillery can be a compact unit, which allows, nevertheless, to produce alcohol up to 96% strength. Easily available raw materials and fast fermentation allows the use of such plants for a wide range of military brewing tasks.
At a time of rampant coronavirus and measures introduced to combat it, what else to do, if not military-economic preparation? The laurels of the German professor of food business Wilhelm Ziegelmeyer do not leave me alone, and I returned to my experiments in military distilling.
Much has been said about the military-economic significance of alcohol-yeast production in
previous articles
. For those who read about it for the first time, and for the rest, in order of reminder, I will briefly mention this. Alcohol-yeast production allows processing non-food raw materials: wood, any wood or grass mass, as well as, for example, needles. First, this raw material is treated with hot water to obtain a solution of monosugars, such as glucose and fructose, and then this solution is fermented. The mash is distilled in the usual way. Although my dreams do not leave me of developing a quick and economical way to extract alcohol from a mash without boiling it.
The resulting ethyl alcohol can be used not only as alcohol, but also as an intermediate for the production of various military-significant materials:
1. Ethanol (a component of motor or jet fuel).
2. Butadiene rubber (tires, shoes, including tarpaulin boots, rubber products).
3. Ethyl nitrate (nitrating agent, explosives).
4. Diethyl ether (medical anesthesia, component of motor fuel, solvent in the manufacture of gunpowder).
5. Ethylene (polyethylene).
6. Chloroethane (from ethylene; medical anesthesia, an intermediate for the production of ethylbenzene, processed into styrene).
7. Styrene (polystyrene, a component of napalm).
8. Ethylene oxide (ammunition equipment for volumetric explosion).
9. Acrylonitrile (from ethylene oxide; synthetic rubber, synthetic fibers).
10. Ethylene glycol (from ethylene oxide; antifreezes, lubricants, brake fluids, ethylene glycol dinitrate - initiating explosive).
11. Polyethylene glycol (a component of solid rocket fuels, lubricants).
12. Polyethylene terephthalate (from ethylene glycol: plastic, synthetic fibers).
In addition, yeast, which can be used as a food product with the nutritional properties of pork, is an important product of alcohol-yeast production. Thus, it is possible to obtain a food product from non-food raw materials, and much faster than food products from vegetable or animal raw materials, since the fermentation process is very fast and very productive.
Yeast needs to be fed
Further experiments went exactly along the path of accelerating fermentation and increasing the efficiency of the process. There is really relatively little sugar in wood juice. Therefore, the solution obtained by washing the wood with hot water, of course, wanders, but rather weakly and reluctantly. In order for him to get to his condition, fermentation is required for three or even four weeks. This is sad, because the process is stretched, and this circumstance reduces its overall efficiency. I was ready to come to terms with this, especially since you can use a cycle of 14 or 21 fermentation tanks, if only not to spend a single gram of food raw materials on alcohol.
Weak fermentation is associated not only with a small amount of sugars, but also with the fact that wood, unlike grain or potatoes, is very poor in useful elements necessary for the growth of yeast. Therefore, when the wood hydrolyzate is processed into alcohol, fertilizers are added to it, usually ammonium nitrate, urea and phosphorus fertilizers. Fertilizers increase yeast activity, accelerate fermentation and increase the yield of alcohol.
A typical set for feeding yeast in brew: urea and superphosphate
Our business is simple, take and try. The addition of two grams of urea per liter of mash gave a tangible effect. Firstly, the mash got ready in just three days. Secondly, the alcohol yield was 8,3%, while without it it was impossible to achieve more than 6%, provided that it was fermented for three weeks.
The truth is said, however. Top dressing gives a good effect.
Please urinate in the mash
But here the experiments acquired a completely new direction, readers have already guessed which one. Why do we need pure urea made at the factory when we ourselves produce this urea? Urine contains approximately 2% urea. In addition to it, there is also phosphorus and other elements in the urine, useful for yeast, as well as a certain amount of sugar excreted from the body. And all this at once in a solution that is more convenient for us.
If so, you have to try. This opportunity cannot be missed. To hell with prejudice. About 50 ml of urine was added to a new sample per liter of mash (I usually do a little test), which gave about a gram of urea. What is the effect? Firstly, fermentation is just as fast, and in the same three days the mash has reached readiness. I decided to try the fastest option, because fermentation was still going on and a lot of gas was released when shaking. Secondly, the distillation went surprisingly well, quickly and a lot. The final result total for all fractions (I distill the samples on the apparatus with a separator, which allows to separate the fraction with fusel oils) - 9,9%. I have never been able to achieve this. Fusel oils, by the way, were few, in contrast to previous experiments.
It is worth noting that at first I was not at all sure of the success of the enterprise. It could turn out worse than on factory urea. Another point was that the mash with such a recipe had a so-so smell, and there was a risk that it would turn into alcohol. Such alcohol will have to be cleaned or used only as a chemical raw material. However, everything went well. It fermented perfectly, the yield was excellent, and the crude alcohol turned out to be odorless.
This is a good contribution to military training. Fertilizing yeast with factory fertilizers can be, and most likely will pose a serious problem in a military environment. There is usually not much nitrogen production capacity, and the products are divided between the consumption of explosives and gunpowder and the consumption of fertilizers themselves. Determining the ratio of this expense is a difficult military-economic task, since it is not always easy and simple to choose between gunpowder with explosives and bread.
Therefore, in the conditions of a long and intense struggle, the share of alcohol-yeast production of nitrogen fertilizers, most likely, will not get. To a certain extent, this undermines the general military-economic significance of alcohol-yeast production. It's hard to turn around; distillation of a poor mash would require a fair amount of fuel consumption. Using urine as a top dress solves this problem. And such top dressing is obtained simply: so, comrades fighters, uncover and be so kind as to urinate in the mash. I apologize for some naturalism.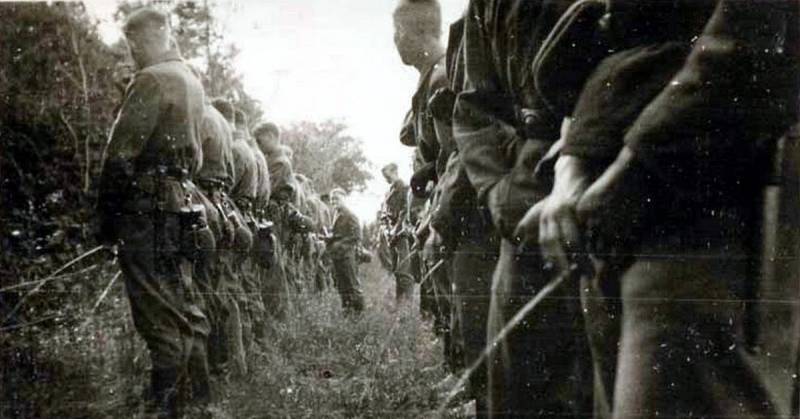 Germans waste valuable military raw materials
Of course, you can laugh as much as you like, but urine is very well integrated into the technological process of alcohol-yeast production, bringing it to the required level of military-economic efficiency.
Sugar Free Art
Now this is a thing that you can do certain calculations. Fermentation capacity per cubic meter will produce approximately 95-100 liters of alcohol every 3-4 days, roughly 200 liters per week. For the sake of such an effect, it was worth trying. For a single refueling of such a capacity, top dressing will require about 50 liters of urine; such a volume of urine can pass about 50-60 people in a day or 12 people in four days. A relatively small production of fertilizing can provide the workers themselves. This, by the way, makes it possible to use this method in a variety of circumstances, for example, for the production of alcohol in the rear parts of compounds, in isolated areas, in all kinds of plants and factories in need of ethanol, for example, powder factories. More powerful factories will require the help of the population or military units, and hospitals or prisoner of war camps may also be involved.
Do not turn your nose! The war generally smells bad, it's time to get used to it. And please, do not bring the absurd recipe from Voinovich anymore. He did not understand anything in moonshining. With sugar, anyone can ferment and drive out. But to do what he wrote about, without sugar, will require a certain art.