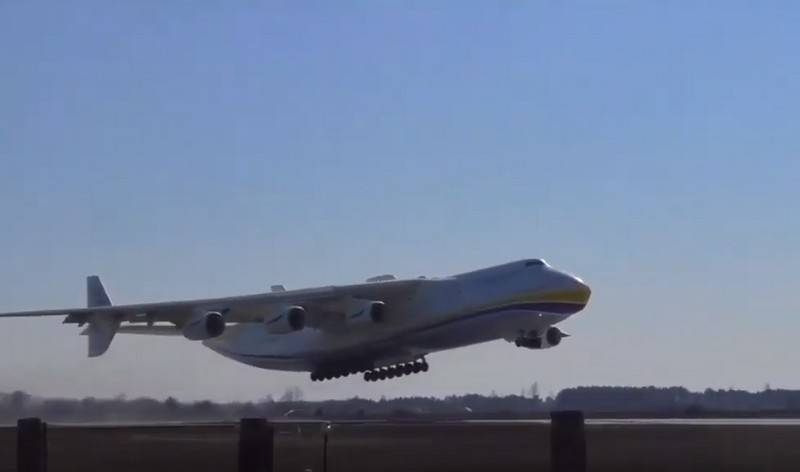 After a lengthy repair in Ukraine, the An-225 Mriya aircraft first flew into the air. This was reported by the press service of the Antonov State Enterprise.
As previously reported, the Antonov company began repairing and modernizing the An-225 Mriya aircraft in 2018. On March 25, after an 18-month downtime, the plane took off from the airfield near Kiev and spent about 2 hours in the air.
The company does not cover changes made to the aircraft during the repair and modernization process, however, it is known that a new power plant control system was installed on the aircraft. In addition, as Ukrainian media write, it is assumed that the An-225 received new power plants from the Ukrainian Ivchenko-Progress and updated avionics. It is also reported that soon multifunctional displays of Ukrainian production will be installed on the plane.
# AN225 performs test flights after modernization. In particular, the Ukrainian-made power plant control system was installed on the aircraft - # An225 vikonu viprobuvalnі poloti pіslya modernizatsії. Zokrem, bulo installed a new ceruvanny system by the power plant of the Ukrainian virobnitz

Submitted by Antonov Company Wednesday, March 25, 2020
Recall that the An-225 "Mriya" exists in a single copy - the plane completed its first flight in 1988. The car is operated by the Ukrainian company Antonova Airlines. However, in July last year, information appeared that the Antonov company intends to complete the construction of the second An-225 aircraft, which began in 1989 and continued until 1994, after which it was frozen. 70% of aircraft readiness to date is reported.
Today, the An-225 Mriya is the largest transport aircraft in the world. Equipped with six turbojet engines, it is capable of lifting up to 250 tons of cargo into the air.