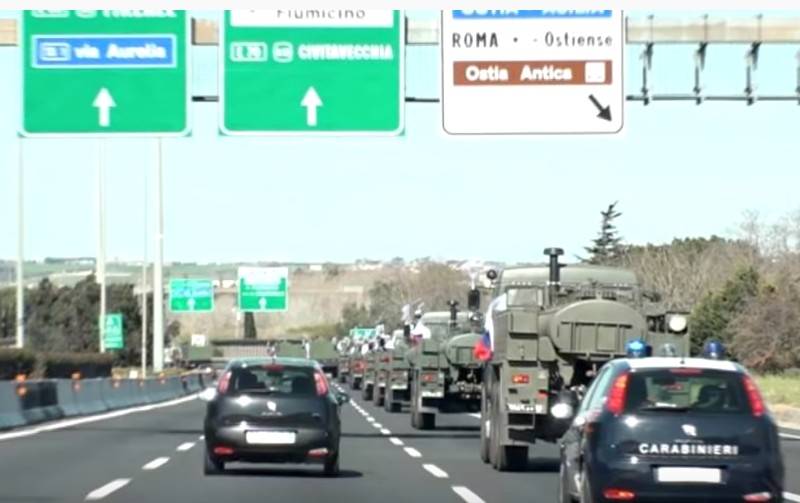 A task force of the Russian Ministry of Defense in Italy has deployed a laboratory for analysis and processing facilities for disinfection in the suburbs of Bergamo, and has begun to provide assistance. It is reported by the Ministry of Defense.
Russian military experts who arrived in the city of Bergamo, began the practical implementation of tasks to assist citizens of the Italian Republic
- said in a statement.
The military department noted that the Russian military conducted a technical inspection and training of equipment, medical equipment, protective equipment, and also studied the area of ​​upcoming work.
On the territory of the Italian Air Force airbase in the suburbs of Bergamo, a laboratory for the polymerase chain reaction of analysis and genotyping, points of special processing of equipment involved in disinfection
- stated in the military.
Meanwhile, it became known that military virologists have begun anti-epidemic measures in the health authorities of Lombardy, the work is being carried out together with Italian experts. Complete sanitary disinfection began with boarding houses for the elderly.
A team of epidemiological doctors and military specialists (...) together with Italian military specialists carried out a complete sanitary disinfection of the Martino Zanki boarding house for the elderly in a suburb of Bergamo. In total 2 thousand square meters of internal premises and access roads were disinfected
- reported in the Ministry of Defense, adding that another boarding house is in line and two more are being reconnoitered.
On the eve of the Ministry of Defense reported that eight medical and nursing teams have been created, each of which will have 7-9 boarding houses in Bergamo, adapted by local authorities to help older people infected with coronavirus.
Each team includes: a general practitioner, an anesthetist-resuscitator, an epidemiologist, anesthetist, and also a unit equipped with disinfection systems for people and vehicles, buildings, road surfaces and areas.
As previously reported in the military department, Russia sent one of the fifteen laboratories of the Russian Chemical Forces Army, eight medical teams, about 100 military virologists and epidemiologists, and special equipment for diagnosis and disinfection to Italy. Major Group of the RF Ministry of Defense in Italy is led by the Deputy Chief of the Radiation, Chemical and Biological Defense Forces of the RF Armed Forces Major General Sergey Kikot.