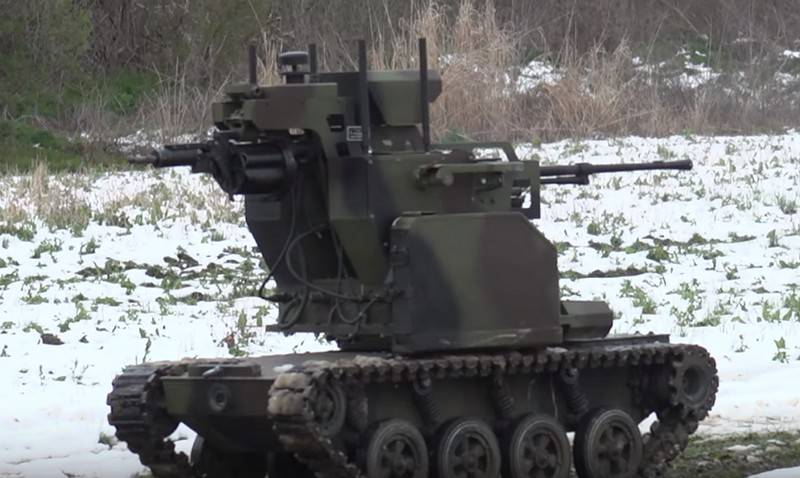 The Serbian armed forces can get into service a robotic complex of domestic development. The combat capabilities of the MiloSh complex were demonstrated during the next tests. It is reported by the Serbian Ministry of Defense.
According to a widespread press release, the complex was developed by the Military Technical Institute (VTI) of Serbia and Special Products Factory Namenska. The Milos robotic complex was first introduced in 2017, or rather, a prototype of the complex was shown.
As the representative of VTI Stefan Savich explained, remote control is carried out from the command and control point mounted on the basis of the car. Remote control range not specified.
The combat module is equipped with an optical-electronic camera with a lens that provides a 30-fold increase, a thermal imager with a digital 4-fold increase and a laser range finder. The electron-optical system provides recognition of objects at a distance of up to 1000 meters, a thermal imager - at a distance of up to 450 meters. The range of the laser rangefinder is 2 kilometers.
The robot was created in a modular scheme and is equipped with a combat module with a 7,62 mm machine gun and ammunition for 500 rounds. It can also be equipped with a 40 millimeter caliber grenade launcher. Electronics allows targeted fire from a machine gun at a distance of up to 800 m, from a grenade launcher - up to 400 m. The combat module can rotate 360 ​​degrees at a speed of 20 degrees per second.
The caterpillar chassis of the combat vehicle allows it to move off-road at speeds up to 7 km / h, the charge of the built-in batteries is enough for an hour of continuous movement. Weight
Robot
is 620 kg. The dimensions of the machine are relatively small: length - 1,73 m, width - 77 cm, height - 95 cm. The robot can be used inside buildings, it passes through a standard door 80 cm wide and climbs stairs, which is very important for special forces units during the various operations. The body of the robot is equipped with ballistic armor. The robot is designed to be transported in a trailer or in the trunk of an SUV.
According to available information, one of the special forces brigades will be the first to use the Milos complex.