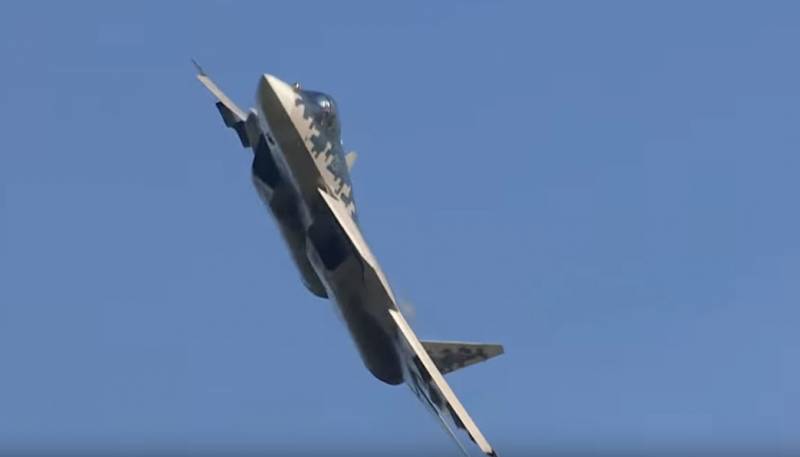 The Chinese media published another material about the Russian fifth-generation fighter Su-5. The author on the pages of the military section of the Sohu portal is trying to compare different ratings of this combat aircraft, which is being prepared for deployment to the Russian Armed Forces.
To begin with, the author cites the opinion of a certain part of Chinese users, including experts, that the Su-57 cannot be classified as a new generation of fighters.
From the article:
Many experts tend to call the Russian Su-57 "flat Su-27."
Further, the author actually makes it clear that he adheres to the same opinion himself:
This characteristic is quite appropriate, because the Su-57 actually has nothing to do with the fifth generation stealth fighter (in the Chinese classification, the fourth, approx. "VO") generation. If we consider the parameters of low visibility, they are the worst among all the new generation fighters that exist today. Even if you pay attention to the color of the Russian fighter, it is not the one that is able to "wash out" the plane in the sky. Yes, he certainly does not look like an invisible fighter.
After that, the author gives the opinions of those who are inclined to attribute the Su-57 to the 5th generation fighters. The article notes that Russian fighters receive second-stage engines that have high performance and are capable of providing the aircraft even greater maneuverability.
From the article:
After equipping the Su-57 with new versions of the AL-41F engines, the fighter will receive an undeniable advantage over other fifth-generation fighters in the air.
At the same time, the author notes that the advantage of the Su-57 can manifest itself only if it "literally collides head-on-head" with the F-22 or F-35. "In other cases, the Su-57 will be detected by American fighters."
In user comments, it is noted that it is generally difficult to consider the parameters and performance characteristics of a fighter, which has not yet been adopted, since real data can simply be classified.